If you are suffering from morning sickness, I bet you will do just about anything for effective morning sickness remedies.  Whilst we understand is all for a good cause, morning sickness is pretty hard to stomach for many pregnant woman.
For the extra lucky ones, you will not only suffer morning sickness but all day sickness (its me, I'm lucky).  Its best compared to an all day hangover, without any of the fun antics from the night before.  You will be nauseous but not necessarily throw up.  You are hungry yet cannot stomach anything.  And all you want to do is TAKE. A. NAP.

Sound familiar?  Never fear, there are lots of morning sickness remedies which can help you to feel a lot better.  These treatments will alleviate the morning sickness symptoms which in turn will help to masque your early pregnancy from your friends, family and work colleagues.  From a spritz for nausea to essential oils, there are morning sickness remedies suitable for everyone.  And if all else fails, just complain loudly at the person who got you into this situation.
SO WHY DO I FEEL SO AWFUL?
It is not understood exactly what causes morning sickness.  But with all the hormonal changes as a result of the pregnancy, it is not surprising that you feel so horrendous.  Your body is working overtime and your sense of smell is heightened.  Combine these two things and its only natural that you are feeling a little (or a lot) queasy.
HOW LONG WILL IT LAST?
It really differs from person to person.  Symptoms are generally experienced from the early weeks of pregnancy until roughly the end of your first trimester.  Some woman unfortunately complain of feeling ill for their entire pregnancy.  For myself, the symptoms started to subside around the 15-16 week mark.
11 MORNING SICKNESS REMEDIES
Try a combination of these 11 morning sickness remedies to help get you through this tough part of your early pregnancy journey.  Fingers crossed, it will be over pretty soon.  Then next steps,  enjoying a happy and healthy pregnancy
#1: Plenty of rest
It probably goes without saying that getting plenty of rest during pregnancy is imperative for your health and your unborn child.  If you are well rested than you are less likely to feel nauseous throughout the day.  Should circumstances permit, a daytime nap can be a lifesaver! If you are struggling to sleep, check out 10 Tips to Help you Sleep Better During Pregnancy for some of my pointers.
This spritz for nausea is new to the market and has been expertly developed by midwives to help you manage the symptoms of morning sickness.  Relieve the Heave contains a gentle blend of the essential oils peppermint, lemon and grapefruit – offering relief and helping you to keep going.  Apply to pulse points or spray into the air and on your bedding.
Relieve the Heave Spray – My Expert Midwife
#3: Healthy Snacks
Personally I found the nausea to be much worse if I was hungry. You may well be craving lots of weird and wonderful things during your pregnancy; however, you are probably best to avoid greasy and spicy foods which will upset your tummy further.  Try to have some healthy snacks within reach at all times, like nuts or dry crackers.
#4: Essential Oils
Essential oils are great as natural morning sickness remedies.  With oils such as peppermint, lavender and ginger they will soothe that sense of queasiness.  Apply to your pressure points or simply breathe them in to take away that nauseous feeling. A few blends you could try from some of our favorite brands: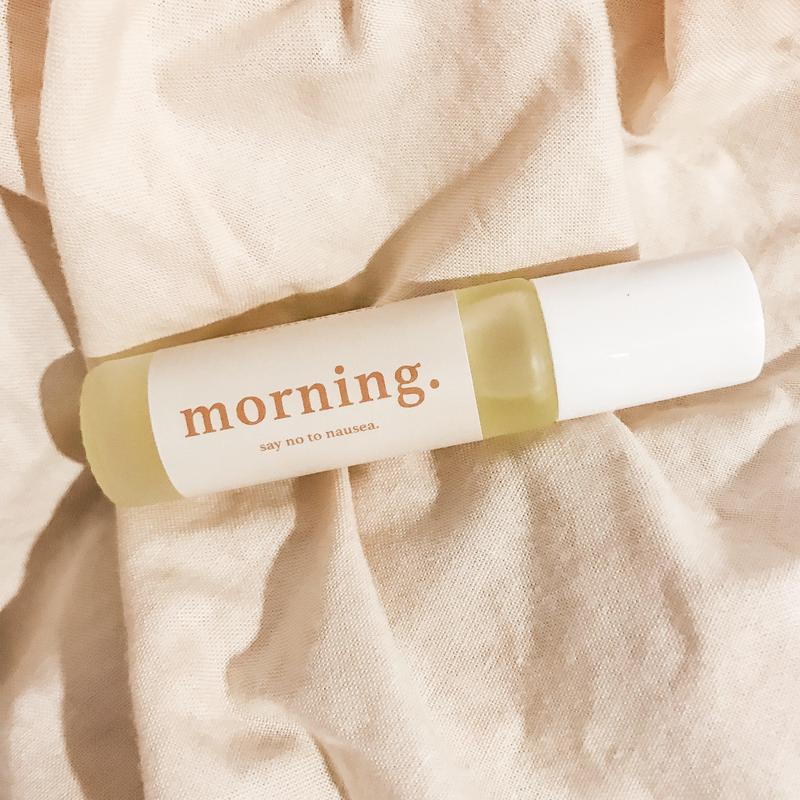 Morning Essential Oil Blend – The Cle Collective
#5: Keep Hydrated
A very simple recommendation, but if you are anything like me then you may often forgot to drink as much water as you should throughout a day.  Dehydration can make you feel very unwell which will not help with the symptoms of morning sickness.  So make sure you always have some water nearby and keep hydrated at all times (even if it does make you need to pee 100 times a day).
#6: Herbal Teas
A hot cuppa is the go to cure for making anyone feel better, whatever the ailment! Even more so here in the UK.  You will likely want to restrict your caffeine intake whilst pregnant, so a non-caffeinated herbal tea is the perfect way to soothe your tummy and reduce morning sickness.  One of our particular faves which is infused with lemon, mint and ginger is Morning Rescue Herbal Tea by Hottea Mama.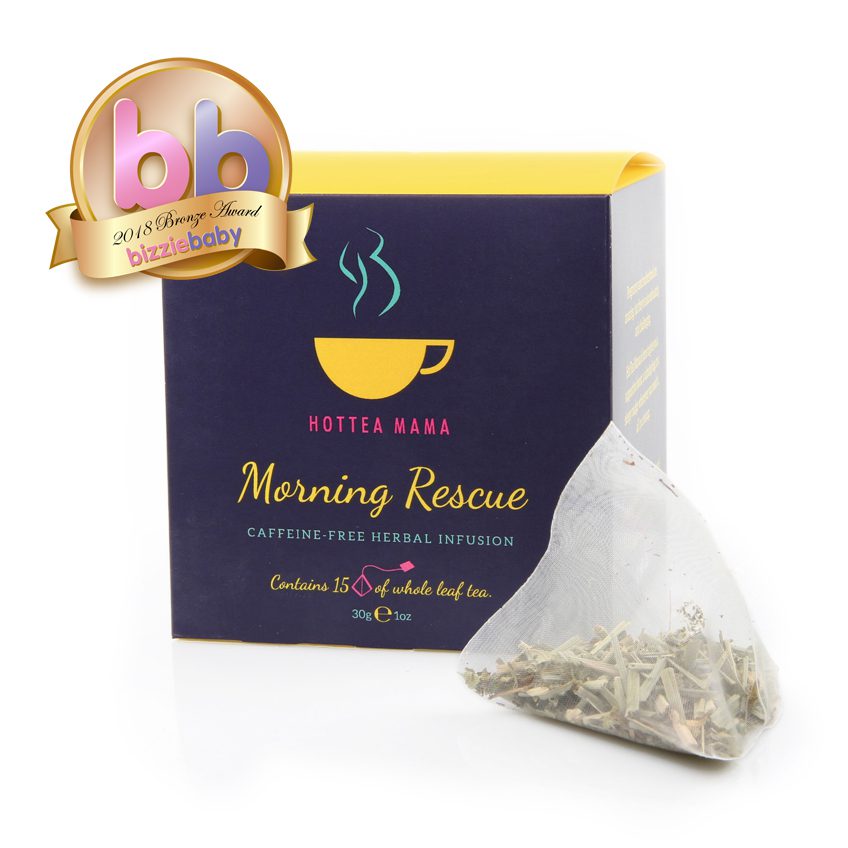 Morning Rescue Herbal Tea by Hottea Mama
#7: Ginger Treats
Ginger is well known for its tummy taming properties and is a natural remedy to help lessen nausea.  You might notice that it is an ingredient in many of the morning sickness remedies in this post.  So I suggest trying ginger biscuits or ginger sweets to help you through the days.
#8: Morning Sickness Bon Bons – 
Myrtle & Maude
These bon bons are enriched with peppermint oil and Vitamin B6.  Both of which are said to assist in reducing the symptoms of morning sickness.  They have been specially formulated to offer a refreshing relief and a much needed energy boost for queasy days.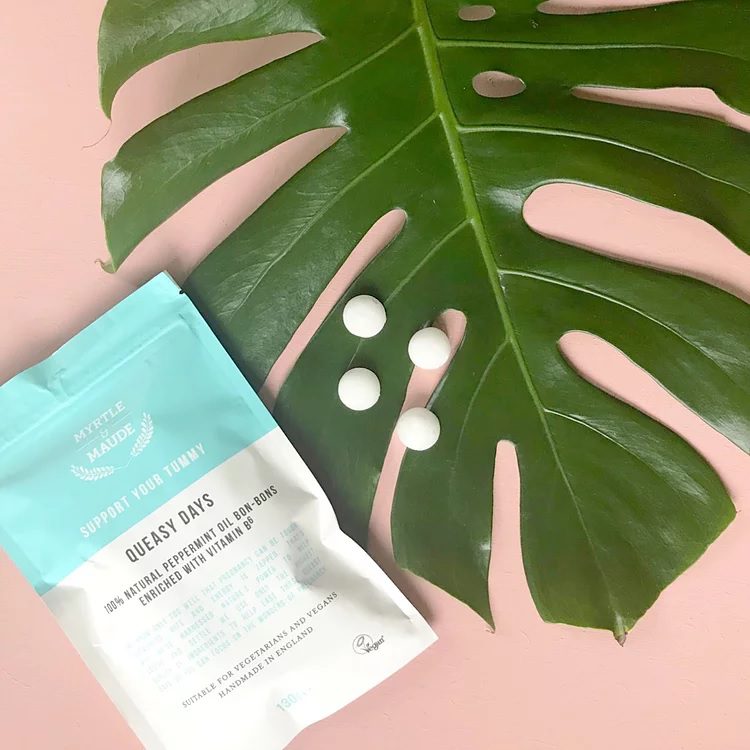 Myrtle & Maude – Morning Sickness Bon Bons
#9: Gentle Exercise
I am a big advocate of fresh air and exercise to make yourself feel better (when you are fit and able to do so).  Head out for a gentle walk or sign up to a pregnancy specific class.  I have previously discussed the benefits of Pilates during pregnancy and I also really enjoyed my aqua-natal classes.
#10: Anti Nausea Wrist Bands
These wrist bands use the concepts of ancient Chinese medicine by applying steady pressure on pressure points on the inside of your arms.  This essentially reduces or stops that nauseous feeling.  They are one of the great natural morning sickness remedies available to you.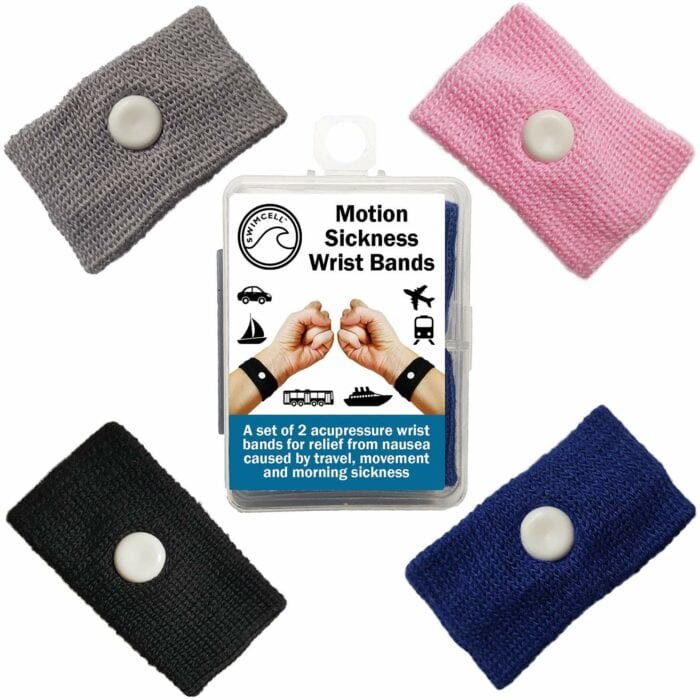 SwimCell Motion Sickness Wristbands 
#11: Acupuncture Treatment
A traditional Chinese healing art which involves inserting very thin needles into the body.  Just like the wrist bands, it is suggested that acupuncture on the wrists could help to improve morning sickness symptoms.  Whilst many people rave about these therapies, I have never personally tried them.
See your GP if symptoms persists
If symptoms persist and you are feeling very unwell then it might be time for a visit to the GP.  In some cases, severe morning sickness can become dangerous for mum and baby.  When I was pregnant my GP prescribed some medication to assist with the nausea.  I didn't find it to work particularly well and preferred not to take medication if it wasn't completely necessary, despite it being deemed safe during pregnancy.
And whilst we all know how unpleasant it is to throw up, it is important to note the colour of your vomit as it could indicate underlying medical conditions of concern. For more information, check out this vomit colour chart guide by the Centre for Gastrointestinal Health.
SEVERE MORNING SICKNESS
In recent years we have seen celebrities such as Kate Middleton and Amy Schumer be hospitalized for severe morning sickness.  This is known as hyperemesis gravidarum and involves extreme vomiting.  If you are concerned that this could be something you are suffering from, seek health care from a professional as soon as possible.
Good luck with this early stage of your pregnancy.  I hope you are feeling better soon and that these morning sickness remedies have helped to relieve the heave a little.  Let me know what treatments you found to work best and if there is anything else you would recommend.  Best wishes – Shell x
Disclaimer: I am not a health or fitness professional and all opinions are based on my own thoughts and experiences.  It is imperative that you seek advice from your doctor, midwife or obstetrician before taking any medications or undertaking any exercise during pregnancy.
If you loved this post, Pin It!
This post about morning sickness remedies contains affiliate links and I receive a commission if you visit a link and buy something on my recommendation. Purchasing via an affiliate link doesn't cost you any extra, and I only recommend products and services I trust.  All opinions are my own.