With the schools now officially closed in the UK for the foreseeable future, you might be wondering, like me, how to entertain your kids at home.  Our family is always out and about, so staying at home is definitely going to take some adjustment for us.  I'm doing my best to stay positive during these uncertain times but with a child in our household it is inevitable that life will go on. I am definitely no expert on this topic so I reached out to 6 fabulous family bloggers who know a thing or two about entertaining kids.  See what we came up with to survive parenting in a pandemic below!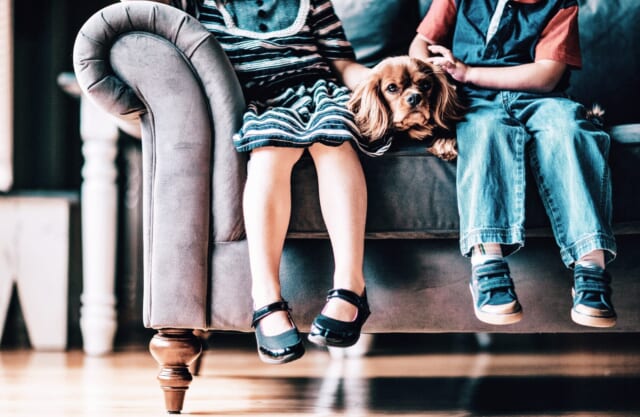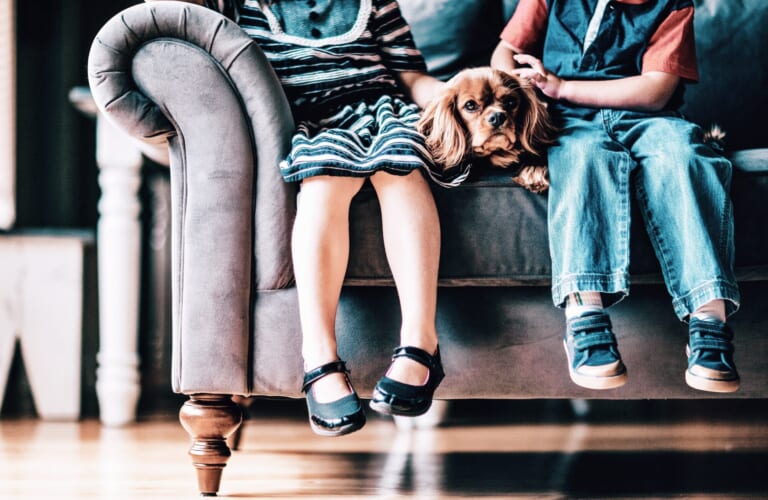 AUDIO BOOKS
Audio books are a great supplement to entertain your kids at home.  An Audio book will assist to develop listening skills, encourage visualization and foster imagination in your children. Audible is offering an array of free audio books for children during the school closures.  And David Walliams, a well known children's author, is also releasing a free kids audio book every day for 30 days.  They are available on his website and here is the link for one of them – Mr Stink Audiobook.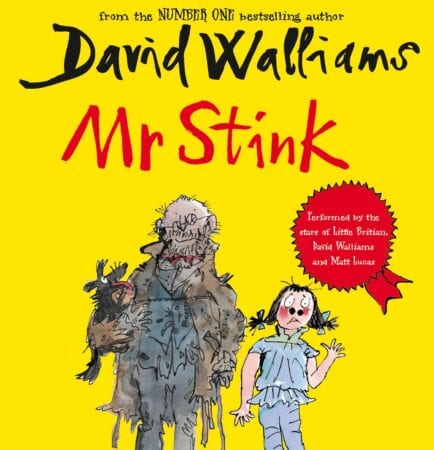 ONLINE LEARNING APPS
Today we have more resources than ever to help entertain and teach our children.  Online learning apps are a great way to assist as Rachel from Children of Wanderlust explains:
We've downloaded a geography app (Kidlo Grade 1 Geography) which has already proven popular with easily accessible tasks for the girls (aged 3 & 5).  These include coloring flags, finding countries on a map and landmark jigsaw puzzles. The app has been a great wanderlust conversation starter. We discussed places we've been to and things we've seen and experienced there. We also talked about future travel plans.
Rachael has been travelling Europe with her children and is therefore somewhat of an expert on homeschooling.  She has provided lots of tips on her blog wtih the best homeschooling resources and ideas for younger children.
BAKING
If you are like me then you might fancy the idea of baking with your kids but just never seem to find the time.  In our current predicament, time is no longer an issue! Baking with children not only helps them to explore their senses but can also assist with learning basic math by counting out the measurements.  Jupiter at Life with Jupiter explains that:
We are looking at doing some baking projects with the family! Cooking is something that always needs to be done, so doing a bit of extra baking and cooking if you can, can not only entertain everyone but also will feed everyone. We always need a bit more food and treats are very good for locking down.
PLAY IN THE GARDEN
If you are fortunate enough to have an outside area of your own, use it to your full advantage and especially when the sun is shining.  Kick a ball, splash around in some water or have a picnic lunch.  You can even buy picnic rugs online if you want. We all go a little stir crazy if we are confined within the same 4 walls for an extended period of time.  So get outside and enjoy the fresh air!
YOUTUBE YOGA AND FITNESS
It is really important to keep kids active whilst we are staying at home.  Thankfully there are lots of online options available, so there are really no excuses.  Try some videos by Cosmic Kids Yoga who provides yoga, mindfulness and relaxation specifically designed for kids aged 3+.  Or Joe Wicks, also known as The Body Coach, is presenting live workouts for kids every Monday – Friday at 9am.  These workouts are available on YouTube so subscribe to Joe's channel and start getting fit in your living room!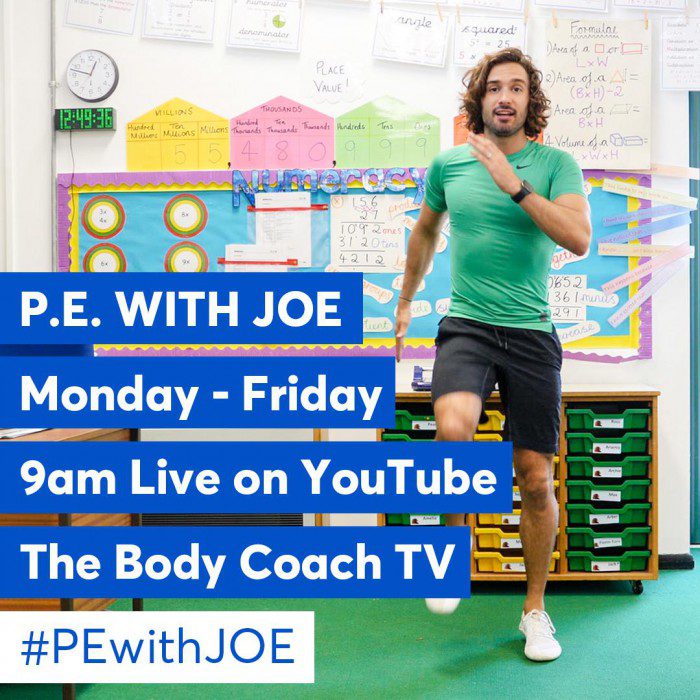 SCHOOL WORK-PACKS
If your child is of school age then it is likely that they have been sent home with work packs to complete during this extended break.  And if your kids are a bit older, then they may also be attending classes with their teachers online.  Carly from Mom of Two Little Girls says:
The school have sent us some work that they need to do. However initially I will just let them chill and relax for a few days and adopt a more relaxed approach to their studies. I don't think me forcing them to do their school work and adopting a "school at home" situation will be productive or good for me or them.
WALK AROUND THE NEIGHBORHOOD
Taking a little walk each day will help lift everyone's mood.  Although, without stating the obvious, please ensure you are adhering to your countries social distancing guidelines.  There are some beautiful initiatives spreading the world such as placing a teddy bear in your window so kids can go on a 'bear hunt' during your walk.  Or posting a rainbow in your window to spread joy and to thank the NHS in the UK.  We are all in this together and it is nice to see these little community sentiments.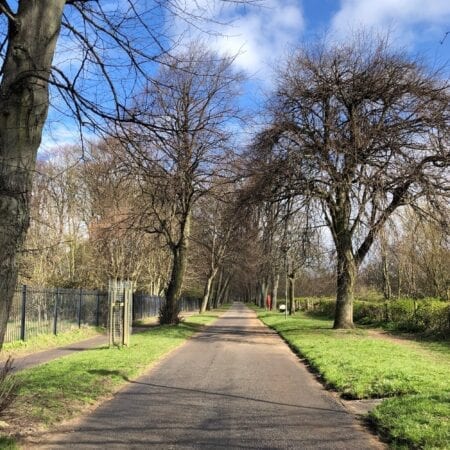 GO CAMPING
We might not be able to go on a physical holiday for a little while, but why not go camping in your garden or living room? Osprey Europe have some top tips to get you started and whilst you are at it, join in their #gampingchallenge on Instagram.
EDUCATIONAL GAMES AND PUZZLES
As parents, I think we are always looking for fun educational games and puzzles for our kids.  I personally find Orchard Toys to have an excellent selection of games and puzzles for kids of all ages.  And I have been impressed with the large selection of free online resources they have released which you can print out to do at home.  Rebecca from Northamptonshire Mums and Kids added:
"It's also a perfect opportunity to finally build those lego models together and play the games the boys love."

PLANT A VEGGIE PATCH
There is something special about growing your own fruit and vegetables.  Especially if it is from seeds and you can watch them sprout to life.  Gardening with children teaches patience, responsibility and engages all of the senses.  It may even encourage healthy eating in your little ones!
MOVIE MARATHON
I'm sure plenty of us will be indulging in movie marathons over the coming months.  Make some popcorn, get in your PJs and relax.  Disney classics are a personal favorite in our household, so its perfect timing that Disney+ has just launched in the UK.
PAINTING & CRAFTS
An essential part of parenting.  But secretly, my worst nightmare … there is just so much potential for mess!  But regardless of my OCD, arts and crafts encourages self expression in your children and assists with developing fine motor skills, dexterity and hand eye coordination.  If you are looking for some inspiration, I'm loving all the craft ideas from Best Ideas for Kids on Instagram.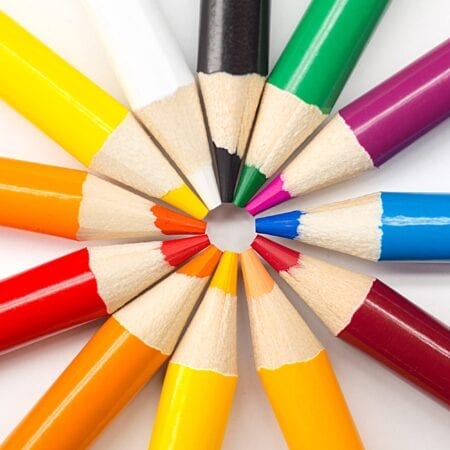 USE YOUR IMAGINATION
Take this opportunity to use your imagination and act like a big kid.  Aimee from How I Wander says:
we sometimes set up indoor Olympics using masking tape and balls to mark out games which is fun, especially with more than one child playing.
Perhaps you could build a fort from chairs and sheets, set up a big sleepover in your lounge room with a few mattresses or go on a scavenger hunt.  Kids love role play, so let your family's imagination take over and create lots of fun memories together.
AND … RELAX
Almost every parent I have spoken to has mentioned that they are trying to remain positive during these uncertain times for their children's sake. And that there is no need for a strict schedule if it doesn't feel right for your family.  Rebecca from Planes Trains and Buggies said:
When we need down time we have it. This is a learning curve for us all!
I couldn't agree more with Rebecca.  We all need to give ourselves a pat on the back and know we are doing a good job.
I hope you found this list of ideas to entertain your kids at home really useful.  There is no doubting that it is a strange time in the world which is causing lots of stress and anxiety for families.  However kids can be a wonderful distraction, so throw your attention and energy at them and focus on making some lovely memories together.  Stay home, stay safe and be kind – Shell x