I thanked my lucky stars that I arrived for my afternoon tea at Burj Al Arab in one piece.  The taxi ride en route to one of the most luxurious hotels in the world was quite possibly the most frightening drive of my life.  Weaving in and out of the traffic at a minimum of 12okm per hour, my driver who thought he was Michael Schumacher, left me white knuckled and sweating with fear.  My favourite part being when we had to swerve erratically to avoid the container of fuel which had been dropped in the middle of the motor way.

As the traffic starts to slow, the majestic sail shaped building appears over the horizon and this modern day symbol of luxury Dubai is a stark contrast to its dessert surroundings.  Set upon a man made island, this building which finished construction in 1999 is currently the third tallest hotel in the world (Wikipedia).
Getting to the Sky Bar – Burj Al Arab
Arriving at the security gate my reservation is checked and verified before the taxi is ushered through.  You must have a reservation for the hotel or one of its restaurants to gain access to Burj Al Arab. You can make reservations so quick and easy with Squaremeal – click here! Once I arrived at the hotel, it was all smooth sailing from there (excuse the pun).
I approached the concierge and was politely directed up the escalators and through to the elevators to ascend to the 27th floor.  The venue is smaller than I envisaged but every bit the luxury.  There are accents of gold and granite all around, fountains dance in the centre of the foyer and the wall guiding you up the escalator is a giant fish tank filled with tropical fish.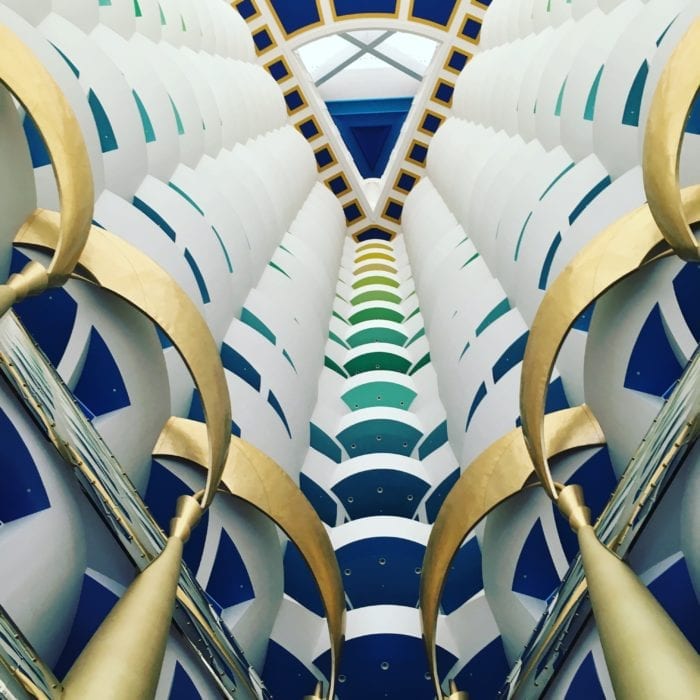 As I step out of the elevator at the Sky Bar I am greeted and taken through to my seat, the maitre de being thoughtful enough to provide me with magazines since I am dining on my own.  I am seated at a table next to the window, and it is clear that seating is given on a first arrive, first serve basis.  The best view in the house is looking over Jumeriah and its facilities, so I recommend arriving as early as possible as the seats are filled methodically around the room.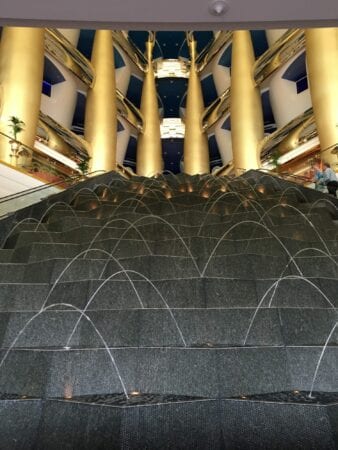 The Setting
The room is decorated in aquatic blues and greens and there are wall to wall windows filling the room with light.  A harp is being played from somewhere within the room and  whist I am served my lemon and ginger tea I notice that a beautiful rendition of John Legend's song, All of Me, is being played.  The bathrooms are as beautiful and impressive as the rest of the facilities.  Hermes hand lotions and perfume, cotton hand towels, fresh red roses and an attendant to clean up after you.  I wouldn't expect anything less from a hotel of this stature.  It is certainly a very Instagramable location.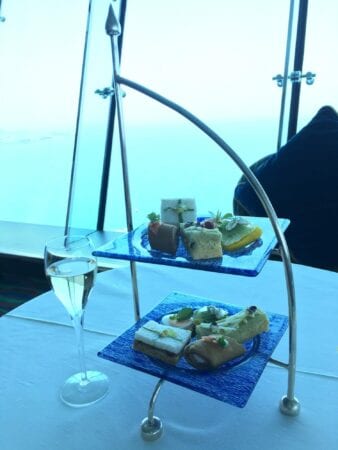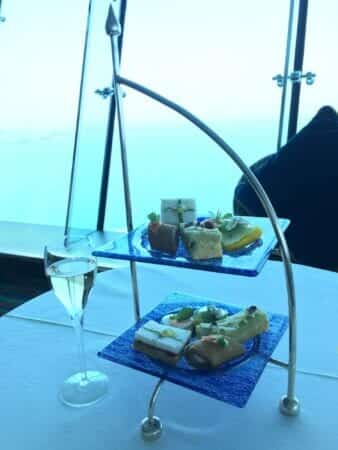 Afternoon Tea at Burj Al Arab
Sky Tea starts with dates and a glass of Louis Roederer Brut NV.  For those looking for the ultimate luxury, you can upgrade to a glass of Dom Perignon 2006 for AED 260 (approx. AUD$100).  First I am served with a beautifully constructed White Chocolate Petit Pot and then something more substantial, a Mediterranean Tartlet stuffed with ratatouille, olives and feta cheese.  My waiter Rueben, a flamboyant gentleman from Samoa, keeps me entertained whilst I enjoy my afternoon tea and constantly refers to my absent husband as Mr WHIT-TA-KA.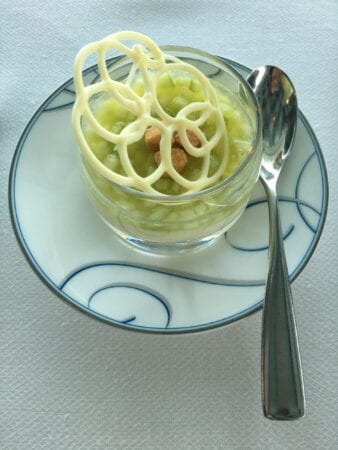 Next up is the traditional finger sandwiches.  What I didn't realise at the time was that although I was dining on my own, I was provided the same amount of food as for 2 people.  The custom made plates  shaped the same as the building we are dining in wouldn't look quite as impressive if they were half full.  So I scoffed my face full of sandwiches before realising I had another whole course to come!  Having said that, the food is unlimited and I was offered more selections of sandwiches several times.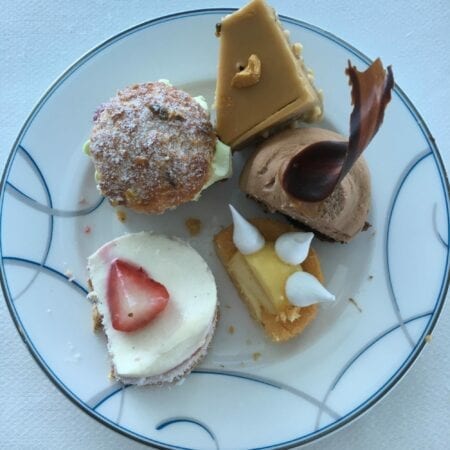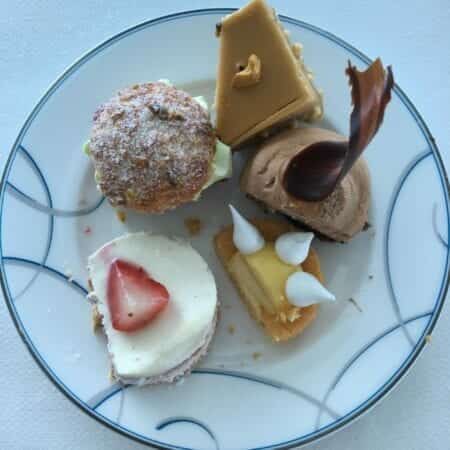 Finally, onto the desserts! I don't have the greatest sweet tooth, but I decide I must at least try a bite of every piece on the plate.  Two different types of scones, lemon meringue pie, chocolate and salted caramel tart, custard puff, strawberries and cream cake – and several others I cannot name!  I felt so guilty leaving the delectable items on my plate, but I simply could not fit in another bite.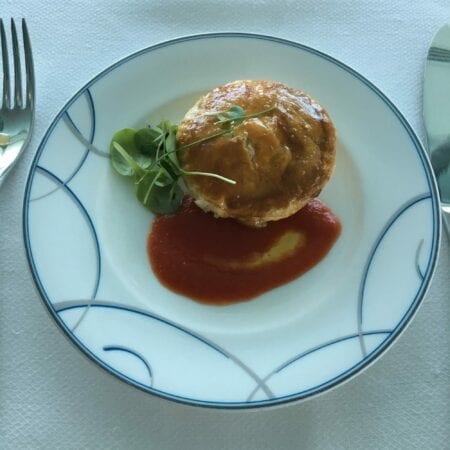 Upon finishing my afternoon tea at Burj Al Arab and deciding that I must finally depart this fine establishment, I am ushered into a glass escalator and as we descend there is an uninterrupted view of the Persian Gulf, Palm Jumeirah and The World Islands.
Afternoon Tea at Burj Al Arab was the ultimate way to spend a luxurious afternoon in Dubai. Then just like my journey en-route to the venue, my return ride was somehow just as terrifying, as my taxi man zoomed through the traffic to make sure he wasn't stuck in the impeding peak hour traffic that was apparently about to onset.
Have you been to Dubai or experienced afternoon tea at Burj Al Arab?  Perhaps it is one of those experiences which is still on your bucket list!  Share your experiences with me below, and safe travels.  Shell x
Note: Reservations can be made online (Burj Al Arab – Skyview Bar) and the price is AED 625 per person.  The price provides a glass of champagne to start, unlimited tea, coffee, soft drinks etc., entrees, sandwiches and sweets, all of which you are welcome to have seconds.