Hypnobirthing is the new buzz word when it comes to writing your birth plan.  Even Kate Middleton is doing it!  But if you are anything like me, you might not be entirely sure what Hypnobirthing entails and how it can help with the birth of your child.  So I took some time to speak with Wendy from The Little Birthing Company whom specialize in Hypnobirthing Courses.  Wendy explains exactly what Hypnobirthing is and why its perfect to add to your birth plan.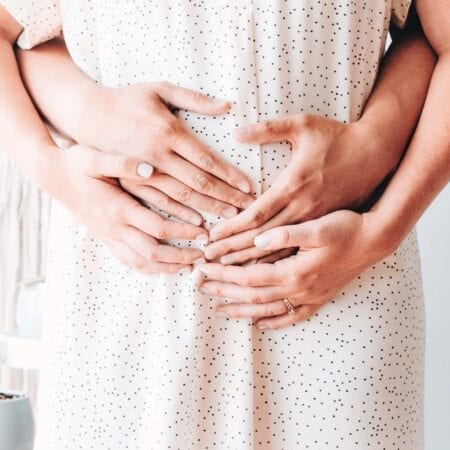 Hi Wendy, thank you for taking the time to speak with me. So, what is Hypnobirthing?
Lets start with what Hypnobirthing ISN'T, as its often the misconceptions about Hypnobirthing that tends to put people off. There is a perception that Hypnobirthing is just for those slightly 'hippy' inclined women who want a home birth and absolutely no intervention or assistance with birth. When Hypnobirthing first started seeping into the births of women in the UK, yes there was often a feeling that it was all about a perfect dreamy birth. Don't get me wrong, it definitely stacks the odds in your favor of having that. BUT, Hypnobirthing doesn't exclude. Hypnobirthing supports all women regardless of how and where they choose to give birth.  Whether it be:
Induction,
Planned or Emergency Cesarean Section,
Home Birth,
Vaginal Birth, or
Assisted Birth …
it really doesn't matter in as much as Hypnobirthing can be of huge benefit to ALL of those births. The key thing to remember is that Hypnobirthing isn't about a perfect birth. It's about a 'Positive Birth'.
Do you feel a lot of woman do not experience a positive birth?
Sadly birth trauma is REAL and it affects so many women (and birth partners and Midwives). Its effects can be physical and/or emotional and can have a massive impact – in some circumstances even leading to Post Traumatic Stress Disorder! Any level of birth trauma can have such a huge impact on early and ongoing parenting. That isn't okay. Birth should be positive. Powerful – YES.  Hard work – YES.  Intense – YES. But not traumatic. The trauma doesn't necessarily come from the type of birth but how a women feels about her birth experience, whether she is informed, empowered, respected and cared for. All givens you would imagine, but sadly its not always the case.
And this is why you think Hypnobirthing is so important?
Hypnobirthing gives women and birth partners knowledge and knowledge gives them choices. It empowers them to know that the choices are THEIRS to make. Hypnobirthing is based in physiology, the power of the mind body connection.  The understanding that when we are in a relaxed state then our birthing brain and body can work together to birth our baby.
A woman's body has the power to create a human being, and it also has the power to birth it.
Hypnobirthing teaches woman how to relax quickly and easily so that the birthing hormones can flow.  It teaches breathing techniques and visualizations that can support a women through this. It teaches the importance of the birthing environment and how this can impact positively or negatively on the release of the birthing hormones. It gives women knowledge so they can make informed decisions about their pregnancy and birth.  And should their journey to birth need to change from what they had planned, they will have the tools to navigate it and make good decisions.
Lastly, and so importantly, it teaches and empowers birth partners so they too can understand how they can best support the birthing woman so she remains as undisturbed as possible.  Allowing her to get on with the 'job' of birthing her baby.
Why should expectant mothers consider adding Hypnobirthing into their birth plan?
Birth can be and should be a positive experience. Both a positive and negative birth experience can impact hugely on early parenting and motherhood.
Welcoming your baby into the world in a calm and positive birth increases the chances of an easier transition for both the baby, new mum and family during those early weeks and months.
Pregnancy should be spent feeling excited about birth and meeting your baby.  Too many women spend pregnancy scared and anxious about birth. Hypnobirthing can help with this this.
What are the benefits of practicing Hypnobirthing during labor?
A calmer, more in control experience. A woman who has practiced Hypnobirthing through pregnancy will have a great understanding of what she can do to stay calm and relaxed.  This allows the hormones to flow and support her as she births her baby.
What is the best way for pregnant woman to learn Hypnobirthing techniques?
Research shows better outcomes for women in birth when they know the Midwife who supports them, and I truly believe this also to be the case for Hypnobirthing. In my view you can't replace the benefits of a face to face Hypnobirthing Course with an experienced, knowledgeable and supportive instructor. An instructor offers so much more than the Hypnobirthing knowledge. They will have great knowledge of the local maternity services and local birth related practitioners who may also be able to support you in your pregnancy. After a course, many instructors are happy to keep in touch and offer ongoing support which can be hugely beneficial to expectant parents.
Do you recommend bringing a friend or partner along to the classes?
Where possible we would always recommend that birth partners attend the Hypnobirthing Classes. Birth partners have such an important role to play in supporting the woman with the Hypnobirthing tools and techniques.
What can participants expect when they sign up to a Hypnobirthing Course?
The Little Birth Company's Complete Hypnobirthing Course generally lasts between 8 – 10 hours but we also offer a 3 hour Hypnobirthing Workshop.  Its a perfect alternative if you learn about Hypnobirthing late in pregnancy or maybe finances restrict you from the full course.
Participants can expect to learn about topics such as:
The basic physiology of birth;
How to look forward, optimistically, to a gentle, safe, calm and comfortable and stress free birth;
How to trust your body to work naturally and in harmony with your baby;
How to prepare a birth plan so that you can be informed and in control of your birth;
The knowledge and power to navigate birth should you require intervention or assistance; and
so much more.
If you could give ladies one piece of advice before giving birth, what would it be?
Educate yourself about birth, know that you have choices and that the choices are yours to make.
Do you still recommend Hypnobirthing if expectant mothers want / need a cesarean or epidural?
100%. There is often the belief that when birth has any form of intervention or pain relief that it can't possibly still use or benefit from Hypnobirthing. But its actually totally the opposite. Its often at times of challenge in a birth that Hypnobirthing can help the most.
Hypnobirthing isn't about promising a 'pain free' birth.
Some women will still make a choice to have an epidural and as long as that choice is informed then that's okay.  The Hypnobirthing tools and techniques will continue to work alongside and in support of the epidural. When someone has an elective or emergency cesarean, they often feel that they loose all of their choices for the birth, but that is absolutely not the case. We offer a workshop tailored for preparing for cesareans.  It teaches women about the positive impact they can have on their birth with some really simple but effective nuggets of information. When a woman understands that any birth can be a positive birth she can start to plan towards it.
Where can expectant parents find out more information about The Little Birth Company?
Head to thelittlebirthcompany.co.uk.  Or you can find us on Instagram – The Little Birth Company.
I hope you found this discussion about Hypnobirthing and its benefits useful.  Previously on the blog I have shared my own Birth Story as well as the reasons Why I Ate My Placenta. Both of these posts are well worth a read if you are interested in alternative therapies. If you are currently expecting – best wishes for the remainder of your pregnancy and good luck preparing your birth plan.  If you have any questions, I would be more than happy to try and answer them if you comment below or send an email.  Shell x