Our first ever trip to Portugal with kids was to Porto.  A gorgeous city in Portugal with cobblestone streets and a contrast of old and new buildings.  It is a city like no other that I have visited previously and I struggled to draw a comparison.  Blue and white tiles decorate the outside of buildings creating a beautiful landscape, contrasted against the terracotta roofs.
Whilst I had wanted to visit Portugal for such a long time, I actually knew nothing about Porto as a city itself.  So when our family mentioned that they would be traveling to Porto and Madeira, we jumped at the opportunity to meet them there for a 48 hour whirlwind tour.
We had an absolutely brilliant time in Portugal with kids and I couldn't wait to share our adventures with you.  Discover all the fabulous things we did and enjoyed whilst exploring the unique city that is Porto.
48 Hours in Porto, Portugal With Kids
GETTING TO PORTO PORTUGAL
We took a flight directly from Manchester, UK to Porto Airport (Francisco Sá Carneiro Airport) with easyJet.  The flight was inexpensive and took just under 2 hours, making it an ideal location to visit in Portugal with kids.  From the airport we ordered an Uber which arrived quickly and it took approximately 20 minutes to drive to our apartment near the center of town. Alternatively, you could collect a hire car at Porto Airport and go on to explore the city at your leisure.
Another option if you are traveling to a few places in Portugal with kids is to catch the train from Lisbon to Porto which takes less than 3 hours.  From Porto we traveled onward to Madeira, an island off the coast of Portugal.
WHERE TO STAY IN PORTO
For our short stay in Porto we opted to rent an AirBNB rather than a hotel.  There was an abundance to choose from and one to suit everyone's individual style and budget.  If you are looking for a family friendly option then I cannot recommend our apartment enough – Casa Morais Porto.  Our host, Joana, met us on arrival (even though it was late in the evening) and was so thoughtful with preparing everything for our stay.  We were spoiled with an array of food and wine, and she even provided toiletries for our use and toys for our daughter.
If you are looking for a luxe Porto hotel then my recommendation would be PortoBay Flores.  It is right in the center of town on the super trendy shopping street, Rua das Flores.  We walked past the hotel and I was envious about how opulent it looked from the outside.
It is worth noting that Porto is an easy city to walk around and nothing is too far away.  So wherever you decide to stay, you will easily be able to access all of the tourist attractions.  However, some of those hills will definitely get your glutes working.
THINGS TO DO IN PORTO PORTUGAL WITH KIDS
I did absolutely zero preparation or research for this trip, which makes me a useless traveler and an even worse travel blogger.  However, as we were meeting family whom arrived a few days before us, I knew that they would have the down-low of what we needed to see and do.  I will say that whilst Porto is not a city with lots of kid focused activities, it is incredibly kid friendly.  Here are my suggestions of things you must see and do in Porto, Portugal with kids.

Take a 50 minute boat cruise along the river banks of Porto and Vila Nova de Gaia in a typical Rabelo Boat.  You have a fabulous vantage point of the cities from the water and can enjoy the magnificent six bridges that unite them.  If you don't fancy an hour on a boat, take a water taxi from one side of the river to the other.  It takes under 10 minutes and will give you a quick, yet worthwhile, glimpse of the city from the water.  Both options are a fun thing to do in Portugal with kids.

Last minute we decided to take the cable car from the Gaia Riverside Promenade which rises up to Jardim do Morro and wow, am I glad that we did.  The ride is less than 5 minutes but offers a spectacular view of the city, Douro River and Dom Luis I Bridge.

Did you know that J.K. Rowling taught English in Porto? And even more to the point, did you know that there is a bookshop in Porto that inspired Hogwarts? It is said to be exquisite however based on the line to gain entrance to this seemingly popular attraction, we did not go inside.  One not to missed in Portugal with kids if they are die hard Harry Potter fans!

It is easy to see architectural resemblances of the Eiffel Tower in the Dom Luis I Bridge, and that is because the bridge is Gustave Eiffel's other great legacy and creation.  It is an impressive sight contrasted against the Douro River and the buildings of Porto.  The bridge joins Porto and Gaia, and you can walk, drive or catch the tram across the bridge.

Perhaps you will be arriving by train and therefore greeted into Porto by this beautiful building.  But if not, it is worth popping your head inside the train station to view the incredibly artistry in the foyer.  The mosaic of blue and white tiles which adorn the walls depict vivid medieval scenes and if you look up, you will notice the ornate detail of the ceiling.
Shopping along the Rua das Flores

This street is a popular destination in Porto for tourists and locals alike.  The street, which is located close to the train station, is lined with shops, restaurants and cafes creating a hive of activity.  You can see displays of old and modern architecture and the street is rumored to come alive in the evening with live music.  There are also lots of little back alleys and lane ways to lose yourself in between Rua das Flores and Douro River, so close Google Maps and do some exploring in Portugal with kids!
Port Tasting

Okay, perhaps this is not the first thing that comes to mind when thinking of things to do in Porto, Portugal with kids.  But it is still doable!  Also, I feel very ignorant to admit this, but I had no idea that Port (a fortified Portuguese wine) originated in Porto.  Even though it makes perfect sense!
The port 'caves' or wine cellars are located in Gaia and you can see many of the famous Port maker's names displayed proudly above the buildings.  We tried port at several establishments – all of which were kid friendly (for well behaved children, of course!).  Our favorite house by far was Sandeman.  Be sure to get lost in the backstreets of Gaia and enjoy tasting port – the three main varietals being white port (which I also never knew existed), ruby port and tawny port.
Wine Tasting in Douro Valley
Whilst we didn't have the opportunity to do a wine tasting tour of the Douro Valley, it is high on my agenda upon our return.  It is one of the oldest wine regions in the world and has been listed as a UNESCO World Heritage Site. Not to mention, it is said to be absolutely beautiful.  This region is famous for producing fortified wine i.e. Port, but they also produce varietals of red, white and rose table wine.  And whilst it might not be the what everyone opts to do in Portugal with kids, I'm sure you can sway the kids with a fun boat ride and nice lunch.
MUST TRY FOODS IN PORTO
Pastel de nata

A visit to Porto is not complete without a visit to a Porto bakery.  Whilst everything displayed on the counters is mouthwatering, you must try a Pastel de nata in Porto.  During our first trip to Portugal with kids, I became obsessed with the Portuguese Custard Tarts!
Bolo do caco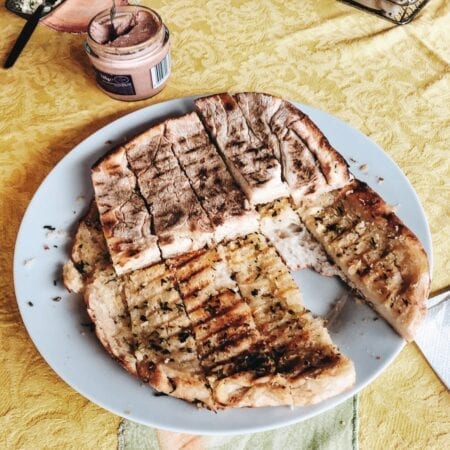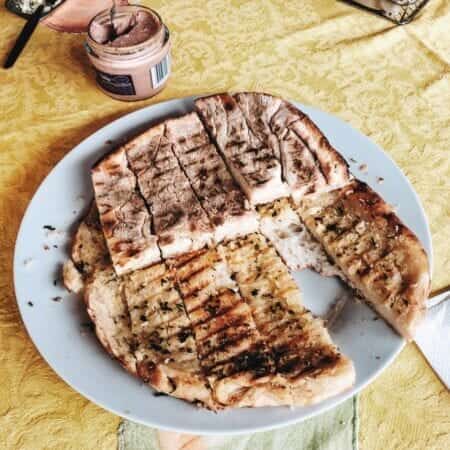 Portugal's version of garlic bread – it is a flat, circular bread, generally cut in half and served oozing with garlic butter. It can be made with sweet potato which makes it unique and is often eaten as a sandwich with seafood, steak or ham & cheese inside.  A must try when in Portugal with kids – it will satisfy even the fussiest eater!
Porto Peri Peri Chicken

I think most of us have enjoyed a Nando's chicken in our lifetime.  So you absolutely must try the authentic peri peri chicken when in Porto Portugal.  Paired with rice, salad and chips, this spicy chicken is my perfect kind of meal.  Whilst in Portugal I had peri peri sauces of varying spiciness, so I suggest asking the spice level before ordering.
Cod Fish
Portugal has a love affair with cod fish and it is often joked that they have 365 ways to cook cod fish – one for each day of the year.  Given its popularity, you will likely find it on the menu at most restaurants and don't be surprised if you see several different dishes.
Francesinha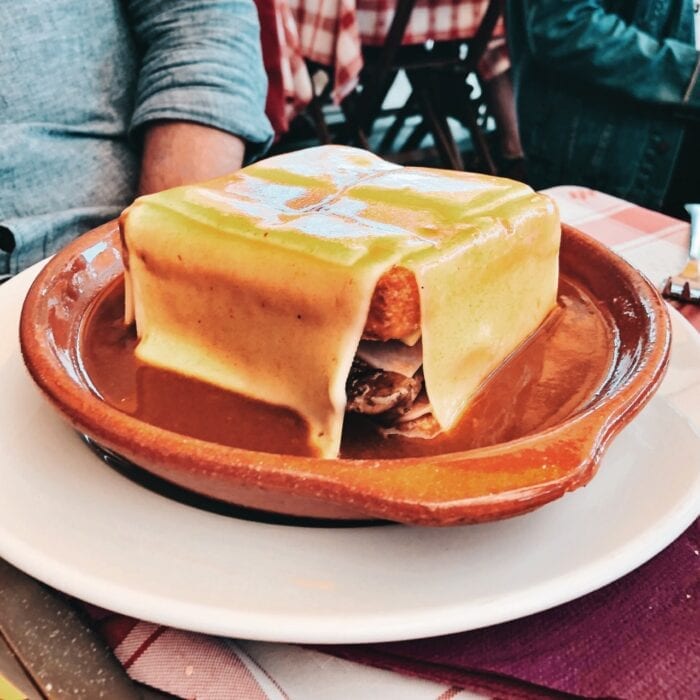 A traditional Portuguese sandwich which is originally from Porto.  It is made with bread and several forms of meat including ham, sausage, steak or roast meat.  It is then covered with melted cheese and drowned in a hot thick tomato sauce.
CAFES AND RESTAURANTS
Porto seems like the type of city where you can just wander along and choose somewhere to eat without having to read every review possible online before hand.   Having said that, here are a couple of noteworthy suggestions that we enjoyed whilst in Portugal with kids.
A rooftop garden in the center of Porto city.  A great place to stop for a coffee or a drink in-between shopping or sightseeing.
Here we enjoyed alfresco dining and traditional dishes whilst watching the world go by.  It is located in Gaia and is close to several of the Port caves.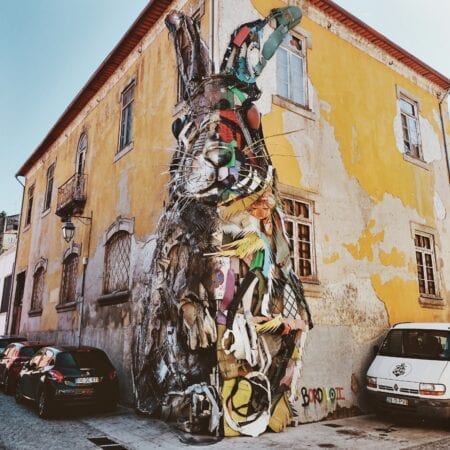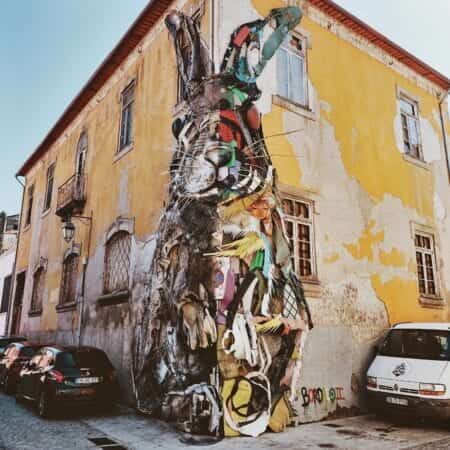 So, have I convinced you to travel to Portugal with kids?  Porto is unlike any other European city I have visited and I thoroughly enjoyed it for that reason alone.  From the interesting architecture to the delicious food, you can not go wrong with a city break in Porto.  Better still, it is perfectly acceptable with kids in tow but yet you can still feel like you are having an adult holiday.
If you are seeking inspiration for other European city breaks, take a look at our Family Travel Diary for Dubrovnik, Croatia or Paris with Kids.  And don't forget, we always recommend that you think about travel insurance for yourself prior to your trip. Safe travels and I hope to see you travel tales of Portugal with kids soon! Shell x
If you loved this Portugal with kids post, Pin It!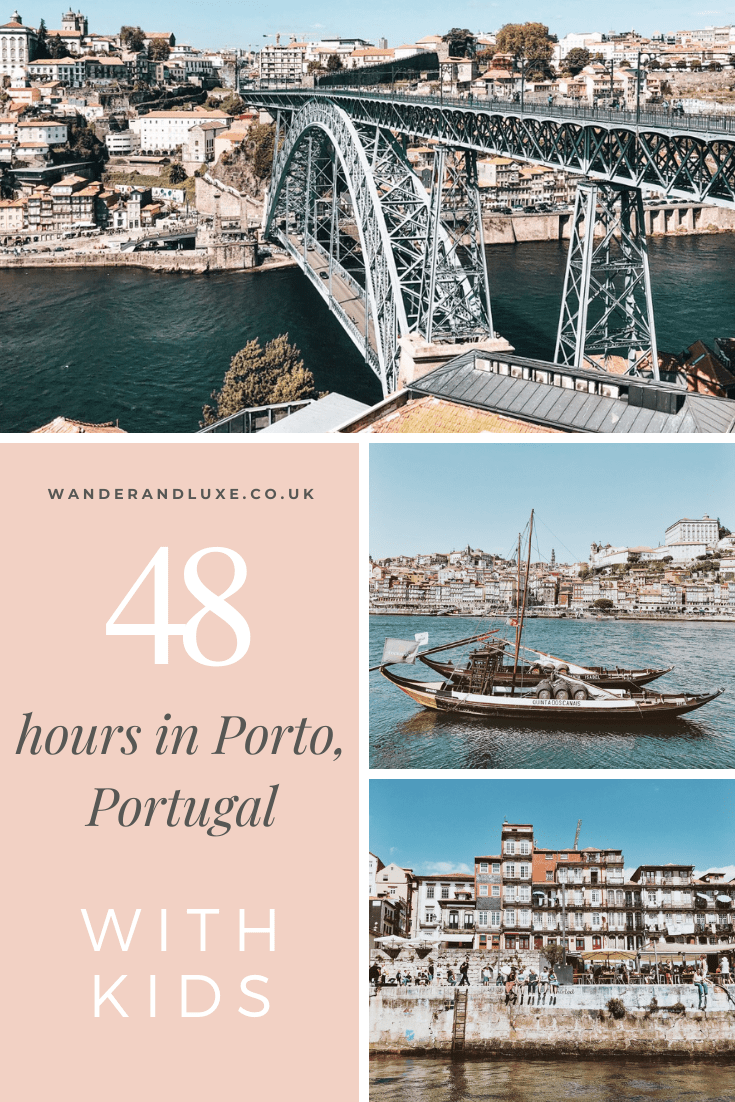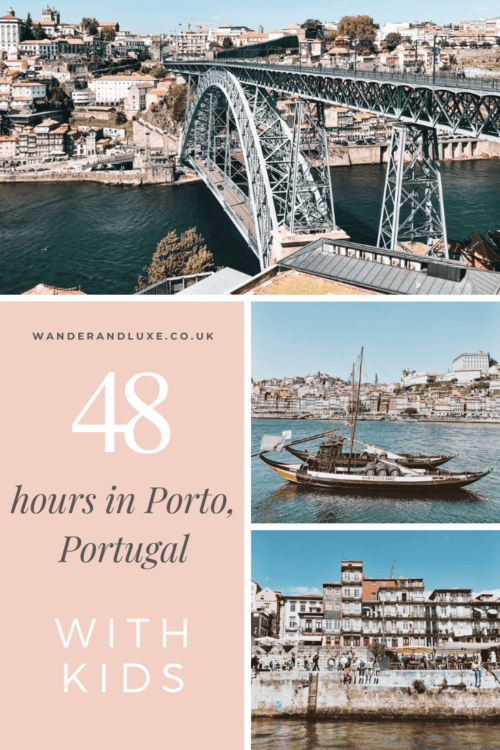 Did You Know: When you click through and book something recommended in this Portugal with Kids blog post (via an Affiliate Link), it helps to keep Wander & Luxe running, at no additional cost to you! As always, thank you for supporting  x