Crafting can be a great way to bond with your kids. You can work together and create something beautiful, or you can just sit down and have some fun.  There are a lot of options when it comes to crafts for kids, but one of the most popular projects is to craft birthday cards.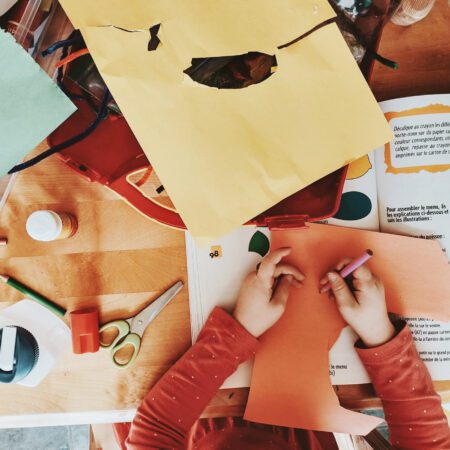 It's a special treat for your little ones and a gift that they can actually give to their friends and family. But there's also the added bonus of having an adorable keepsake that will help them remember their growth over the years.
The best part? Most card crafting kits come with everything you need to make the project — all you need is some creativity and maybe some scissors!  Here are some tips on how to craft birthday cards with your kids which are easy and gorgeous.
disclosure: this is a partnered post
Collect Attractive Materials
The first step to start your craft project is to prepare all the necessary materials. The best thing about handcrafted cards is that they can be made literally from anything — just follow your fantasy and imagination. It is possible to use all those little nice things you can find in your house and that looks beautiful to you. It can be a variety of ribbons, yarns, pieces of wrapping paper or fabric, beads, coloured cardboards, decorative tapes or buttons. Even old newspapers — they can add great texture.
Involve your children in searching for the materials, and most likely he or she will come up with original ideas that you might not even think about. This will make the process even more interesting and entertaining.
Prepare Instruments
For your project to craft birthday cards, you may need the following basic instruments:
Paper;
Glue;
Pencil;
Ruler;
Markers;
Pins;
Pair of scissors;
Stapler;
Needle.
If you are an experienced handcrafted artist or want to create something exceptional for your beloved ones, you may need such card making supplies as glitters, cello bags, inserts and fold-outs or die cuts. Just please ensure that sharp tools are kept away from your child, or ensure they are supervised at all times.
Okay, now, when the preparation phase is successfully completed, here comes the time to craft birthday cards for your loved ones.
5 Ideas to Craft Birthday Cards
#1: Cards with cupcake molds
This is an original and lovely variation of a birthday card that close relatives such as parents and grandparents would adore. To create it, you will need coloured paper, glue, and muffin tins or cupcake molds. You can also use a photo of your child.
Cut out the stem and leaves from the paper and glue a flower-shaped muffin tin on top. You can then add a face of a kid in the centre of the composition. With cupcake molds you can easily create a very unusual and lovely card.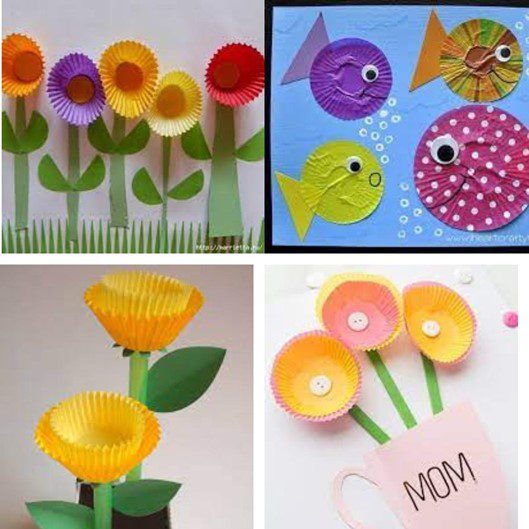 #2: Cards with pockets
Another great is card with pockets. You'll need a few pieces of wrapping paper of different colours and patterns, a decorative rope or yarns and one sheet of plain white paper or cardboard to be used as a base. Create a few small pockets (they may look like envelopes) from coloured paper, carefully stick them on a base, whether you use a piece of white paper or cardboard. Write your lovely wishes, fold them and put them inside those pockets. As a finishing touch, decorate the card with a bow-knot made of rope or yarns.
#3: Card with paper flowers
You can create an adorable feminine card using white and coloured paper, beads and markers. Cut flower petals from white paper and stick them on top of the base, slightly bending the ends so that the flowers would look more voluminous. Glue coloured beads in the middle of each flower and draw stems and leaves. Draw the vase with markers and decorate it with glitter or a paper bow-knot.
#4: Cards with buttons
You can make very beautiful and creative cards using ordinary buttons. Take various interesting and unusual buttons, a sheet of coloured cardboard, decorative paper or textile and create any form you like.  Glue button trees, flowers or balloons and add heartfelt wishes.
Your children may provide you with even more ideas of what forms you can create with buttons.
#5: Card with paper hearts
An easy one, yet impressive, this card will delight your loved ones. You would need to choose a base, whether it is white or coloured paper or cardboard, and use coloured paper and markers or paints.
Cut out white clouds and a few hearts from coloured paper. Fold hearts in half and glue them on top of each other so that they would get some volume. Get creative and finish the picture with markers or paints.
Enjoy Quality Family Time
To craft birthday cards is a fun way to spend time with your child. It can be an exceptional bonding experience, and it is definitely worth the effort! You can create cards that are thoughtful and creative. They are perfect for any occasion and will make your child feel loved and appreciated by family and friends.
this is a contributed article