The kitchen is the heart of the home. This is where meals are prepared, where you sip your morning coffee, and where conversations with your loved ones are had. So many lovely memories are made in the kitchen. Therefore the kitchen deserves careful attention when it comes to decorating. So, how do you create a gorgeous kitchen I hear you ask?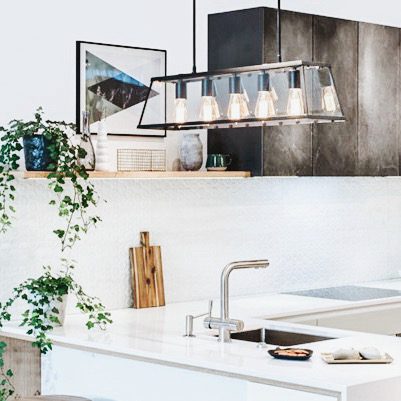 When it comes to decorating the kitchen, it is important that it is functional as well as beautiful and welcoming. You want to create a space you will love spending time in. With that in mind, here are eight decorating tips to help you create a stunning kitchen that you will love.
8 Tips To Create A Gorgeous Kitchen
#1: Utilise All Your Storage Space To Prevent Clutter
Let's face it. It is very easy for the kitchen to become cluttered. For some reason it always seems like the room where keys, phones and mail end up. And how about those bottles of cooking oil and all the spices just lying around? Clutter is the enemy of a beautiful kitchen.
One of the best – and easiest – ways to prevent clutter is to utilise your storage space to the fullest. Make full use of all the space by installing drawers, shelves, cabinets and kitchen appliances. Pull-out drawers are a really easy trick to keep everything organised and tidy. They are also perfect for storing your pots, pans and any other kitchen essentials.
#2: Get A Kitchen Trolley
A kitchen trolley is a great addition to any kitchen. It provides additional storage and you can move it whenever you need to. If you feel like adding a little bit of colour to your kitchen, you can choose a bright kitchen trolley. No matter what, make sure you pick a trolley that matches your overall colour scheme – or perhaps opt for one with a fun pattern if you are feeling a little courageous.
#3: Let There Be Light
Lighting is essential in every kitchen – you need to see what you are cooking after all. Not only does it illuminate the space, it can also create a certain mood or atmosphere. It is generally recommended to install task lighting where you are preparing the actual food and doing the cooking, and then more of a statement light fixture above the dining table or kitchen island. And always make sure to keep your windows clean and unobstructed so you let in as much light as possible.
#4: Keep Functionality At The Forefront
When it comes to the kitchen, functionality is the most important thing. Yes, you want a beautiful kitchen, but it has to be functional. Choose appliances and fixtures that are practical and easy to use, while also aesthetically pleasing. Only have appliances on your countertop that you use on a daily basis, like a coffee machine or juicer.
It is also important to consider the location of everything. For instance, having knives and other essential items in a convenient location where you can easily access them when you need to is a real gamechanger.
#5: Stick To One Style
As with any room in your home, it is important to stick to one style. Whether you choose a minimalistic, modern, farmhouse, or traditional style, make sure you stick to it throughout the space. If you already have a style in your home, continue with that style in the kitchen.
#6: Tame The Rubbish
Everyone has rubbish, but nobody wants to look at it. Rubbish bins are an absolute necessity but often they are not the most stunning piece of decor in the home. Hide your rubbish in a pull-out drawer or cabinet to keep it out of sight. If you prefer to showcase your rubbish bin, choose a stylish and sleek model that adds to the overall aesthetic of the space.
#7: Add A Personal Touch
While the kitchens you see in interior magazines are stunning, they can be a bit impersonal. To make your kitchen feel more cosy and make your house feel like a home, add a few personal touches. This could be knick-knacks from travels, family photos, or artwork.
#8: Splurge Where It Matters
When it comes to decorating your kitchen some appliances are worth splurging on. For instance a high-quality dishwasher can save you time, and a great oven can make cooking and baking a breeze. Splurge on the most important appliances that you use the most, and then choose more budget-friendly options for the appliances you use less frequently.
Decorate Your Kitchen With vidaXL
Are you looking for more inspiration to take your kitchen to the next level? vidaXL offers a wide range of kitchen decor that will brighten up your home and help create a gorgeous kitchen. No matter which style or trend you feel most connected to, you will find a myriad of ideas that will make your kitchen look gorgeous at vidaXL. Happy decorating!
this is a contributed article