Recently my daughter was entrusted with the very important task of reviewing the new Disney Princess Wooden Toys Collection.  Now, for a 3 year old whom is Disney Princess obsessed, this was a dream job!  This new wooden toys collection has a wonderful selection of famous Disney characters to choose from.  From modern day heroines like Moana to classic princesses like Cinderella.  There is a playset within this collection to suit every Disney Princess fan.
So without further ado, lets take a look at our full review of the Disney Princess Wooden Toys Collection.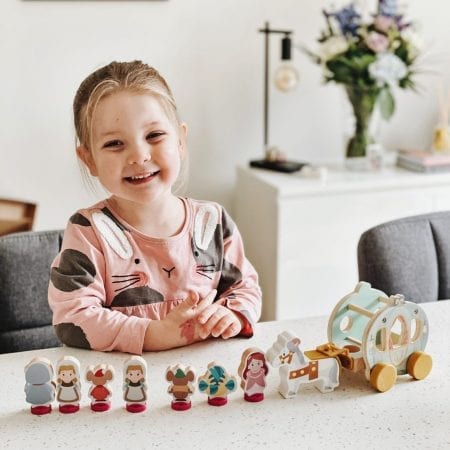 About Disney Princess Wooden Toys Collection
This new and gorgeous collection of wooden toys have been made with eco-conscious parents in mind!  Featuring Princesses from the most iconic Disney tales, these beautifully crafted wooden toys will delight young Disney Princess fans and parents alike.  The classic Disney style and well constructed toys will encourage imaginative play and stimulate a child's senses.  All whilst improving fine motor skills and hand eye coordination.
There are several Disney playsets available for purchase, including the ones reviewed here in this blog post.  But also look out for the spectacular wooden playsets that will be available soon, including Rapunzel's Tower and Ariel's Grotto.
First Impressions of Disney Princess Wooden Toys Collection
We were gifted two different items from the magical Disney Princess Wooden Toys Collection to review.
Disney Princess Wooden Cinderella's Pumpkin Carriage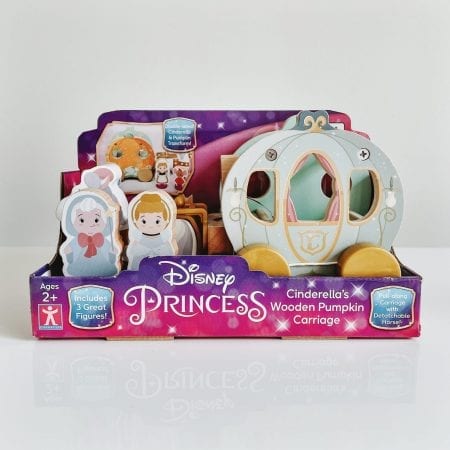 This exquisite set features a pull-along carriage, a detachable horse, and three double-sided figures: Cinderella, The Fairy Godmother and Jaq the mouse.  The carriage is also double sided making it all the more special.  One side shows a pumpkin with curling vines and the other a beautiful carriage to take Cinderella to the ball.
The carriage also features smooth-rolling wheels, meaning little hands can push this carriage along the floor and let their imaginations run wild with possible destinations. There are multiple slots within the carriage where figures can be easily placed and interchanged.
Disney Princess Wooden Princess Four-Figure Set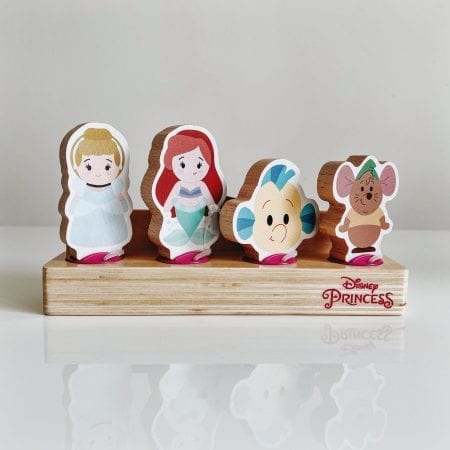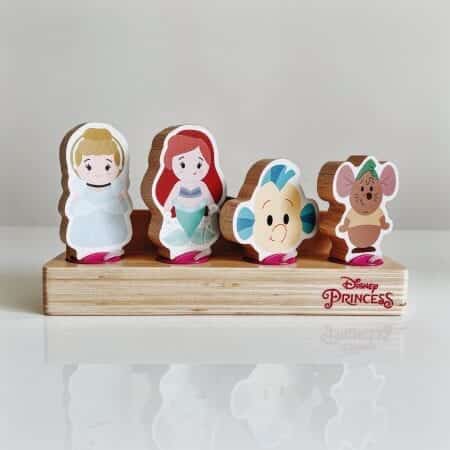 These Disney wooden figures are too cute to resist!  There are two x four-figure sets to collect, and each set includes two Disney Princesses and two Friends.  We were gifted the set with Ariel & Flounder, Cinderella & Gus Gus.  Each character is double-sided which gives added play value, with the Princesses each sporting a different outfit on both sides.
These figures can be easily fitted within the wooden bench provided, making a really lovely display. And the figures are also scaled to fit with any Disney Princess wooden playset, making them interchangeable and encouraging your kids to recreate endless adventures!
What We Loved About Disney Princess Wooden Toys Collection
There is so much to love about this wooden toys collection.  As is evident by the pure delight on my daughter's face!  Here are all the reasons why we love the Disney Princess Wooden Toys Collection.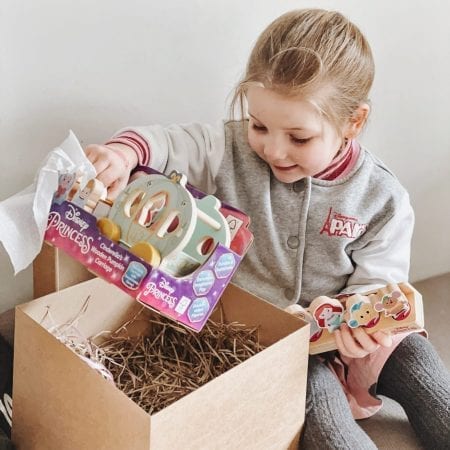 Excellent Quality – each item is durable and sturdy, ideal for little people who are not renowned for 'being careful' with their toys
Chunky Build – making them perfect for little hands to grasp and developing fine-motor skills
Double Sided – creating even more options for story telling
Stunning Illustrations – classic Disney Princess styling, made whimsical with the use of pastel colours
Interchangeable Pieces – collect multiple playsets and let your kids dream up new enchanting adventures for the Disney Princesses
Magic of Disney – many of us are still enchanted by Disney well into adulthood, and these figurines and playsets are the perfect introduction for young children
Eco Friendly – made from environmentally responsible wood, eliminating the endless 'mountains of plastic' that you can accumulate in a house with small kids
Encourages Imaginative Play – which helps to develops social skills, build self confidence and practices language skills.
Age Range – perfectly suited for 2+ years.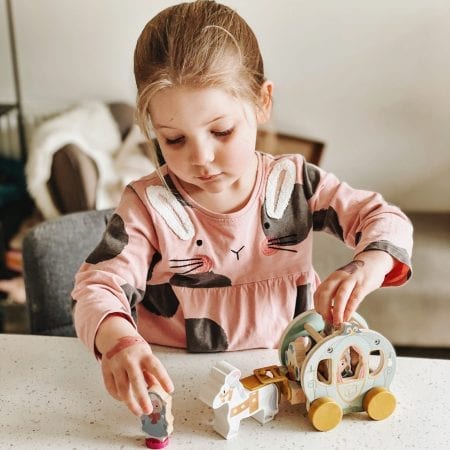 Not So Good Bits
I'm clutching at straws to find something negative to say about these beautiful wooden toys.  My only slight criticism would be the plastic used as 'stands' for the little figurines and to join Cinderella's horse and carriage.  Given they are sold as 'wooden toys' I found this a little peculiar.  However, I presume they have been designed this way to make the pieces more sturdy and durable for play, and I'm okay with that!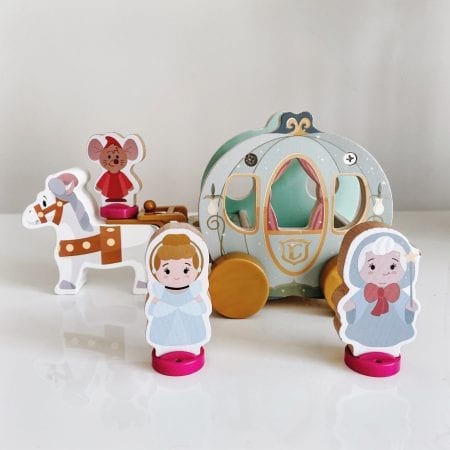 Price Point
These gorgeous wooden toys are available at Argos and retail for the following:
Disney Princess Wooden Princess Four-Figure Set – £9.99
Disney Princess Wooden Cinderella's Pumpkin Carriage – £19.99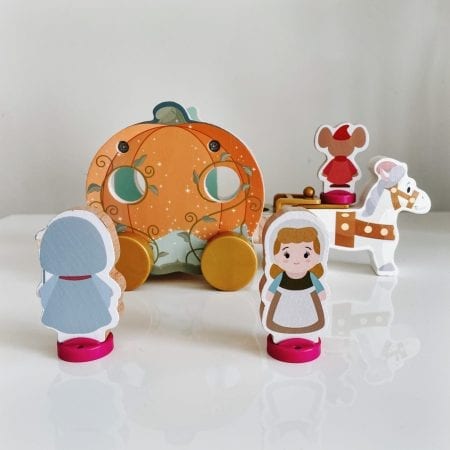 Overall Review
Well, I have to say we are in love with these Disney Princess Wooden Toys.  This new collection is a wonderful marriage of two of our favorite things – Disney Princesses and wooden toys.  Full credit to the design team for creating such a stunning collection.  These sets will be thoroughly enjoyed in our household until they are outgrown. And then they will be lovingly passed down to another Disney Princess fan to enjoy.  We cannot recommend these playsets highly enough.
If you loved this post, Pin It!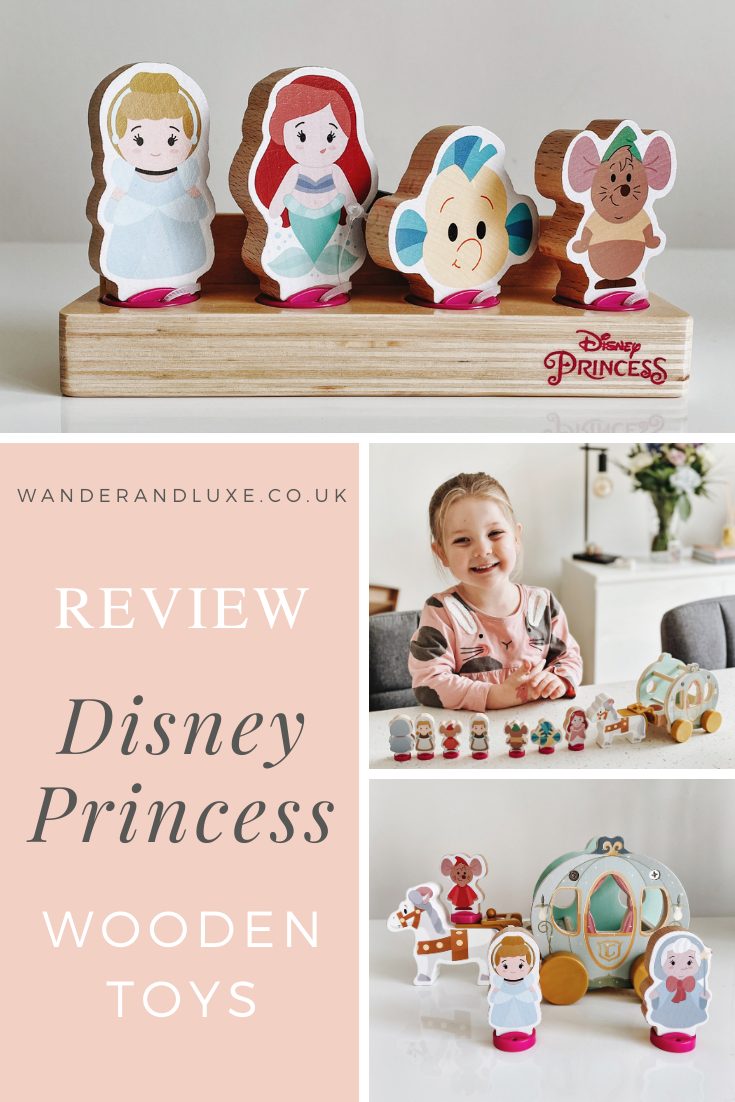 Disclaimer: We were kindly gifted the Disney Princess Wooden Toys in exchange for an honest review on Wander & Luxe.  All opinions are my own.