Our family was recently asked to review the brand new Smoby Kids Teepee.  We are already familiar with the excellent brand, Smoby, as we bought our daughter a slide for the garden for her 2nd birthday.  And given how much children love to have their own little hide outs and cubby houses, I knew my daughter would love to trial this kids teepee.
So lets take a more thorough look at the Smoby Teepee Tent and see what we thought of it in our household.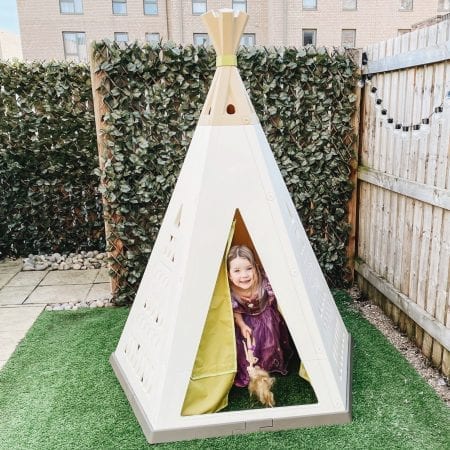 ABOUT SMOBY
Smoby is a French toy manufacturer which has positioned itself as the designer and producer of innovative toys that will accompany children through each step of their development.
Within the Smoby range of toys there is something for everyone!  They offer modern toys which are not only fun but provide educational values and assist with emotional development, while helping children to discover the world.
As a leader in their market, Smoby is trusted by parents all around the world and they have been for generations.  They make products with appealing designs & modern colours that encourage children to use their imagination during their early developmental years.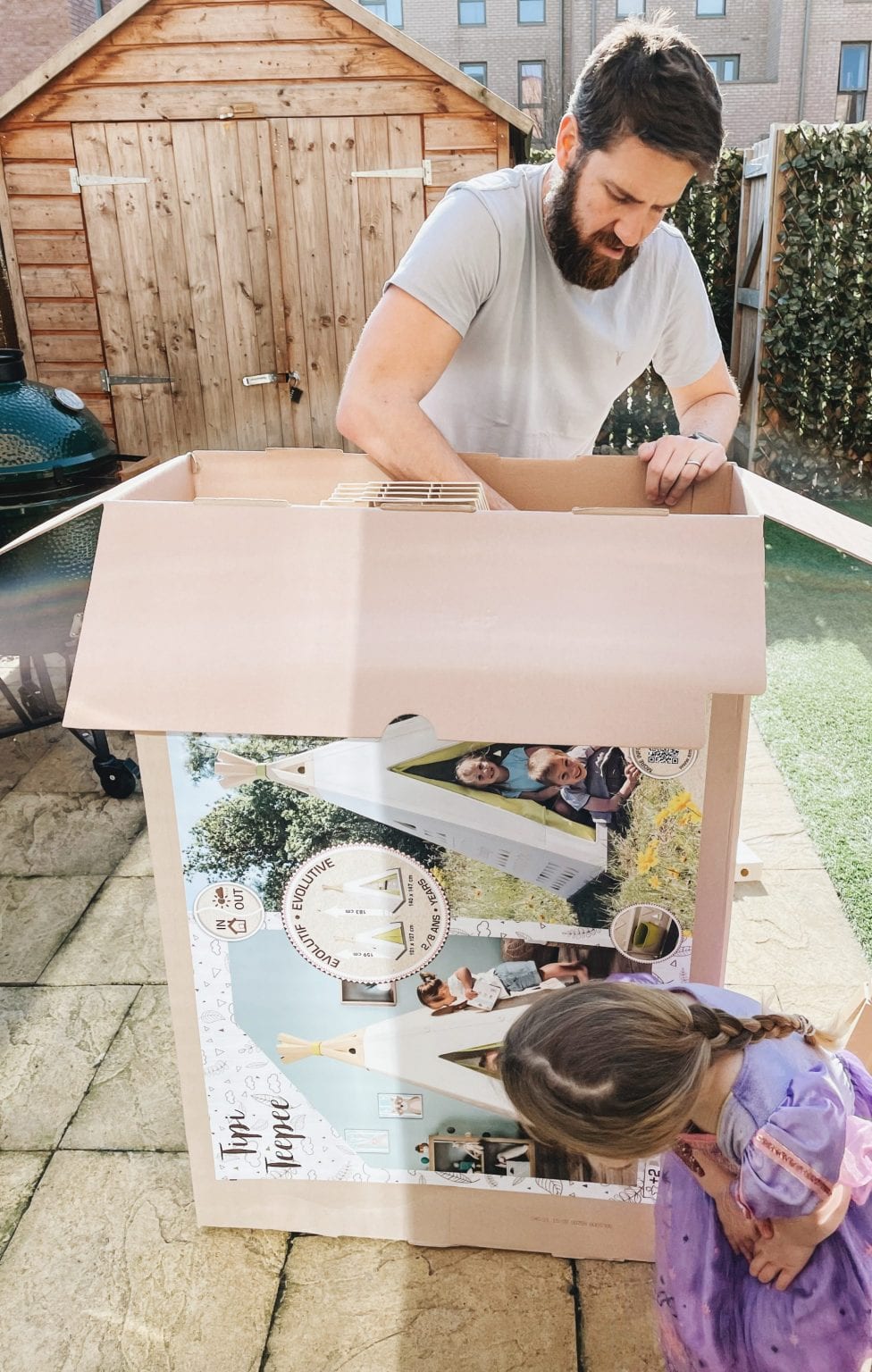 FIRST IMPRESSION OF THE SMOBY TEEPEE
Wow – its big!  But in a good way.  Unfortunately it is too large to have inside our house, but it works perfectly in the garden.  Not to mention that the colours are very neutral, so I have hardly even noticed it being outside.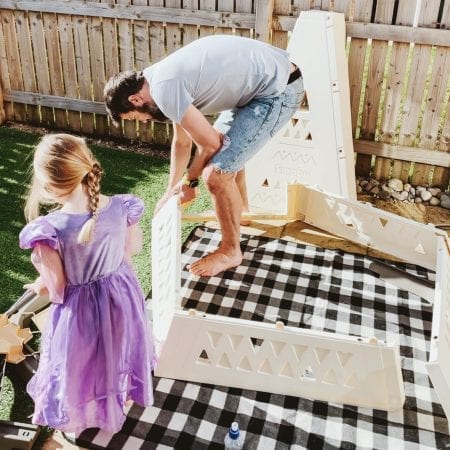 SMOBY TEEPEE TENT SPECIFICATIONS
Here is some useful information to give you a better understanding of what's inside the box!
Easy to follow instruction guide.
The pieces simply clip together or fasten using giant plastic screws.
100% PP plastic, meaning it is very durable.
Suitable for ages 2-8 years.
Height 159cm-183cm — Width 147cm — Depth 140cm.
2 different configurations available, to allow the teepee to grow with your child.
Construction time approximately 45 minutes with 2 adults.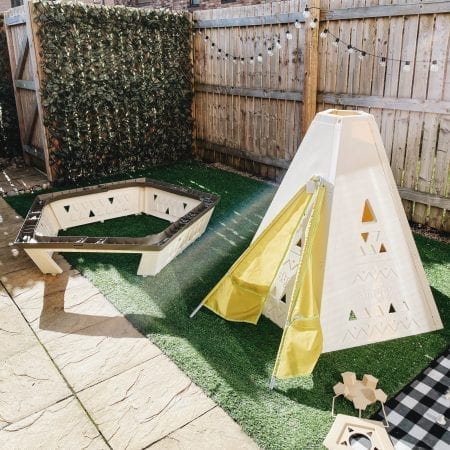 WHAT I LOVE ABOUT THE SMOBY TEEPEE TENT
Well, where do I start.  There is so much to love about this kids teepee.  Here are my thoughts!
Design – modern and innovative.  A welcome addition to any family home with young children.
Quality – made from heavy duty and durable plastic, this product is long lasting.
Easy Assembly – the clever design made it quick and easy to put together the teepee, even with a 'little helper' by our sides.
Encourages Role Play – and being outdoors.  Basically, what every parent wants for their child.
Extendable – meaning it grows with your kids offering great versatility.
Easy to Clean – an essential component when it comes to life as a parent, because kids can be messy.
Weatherproof – providing great sun protection on warm days, and the perfect spot for picnics.
Thoughtful Added Features – such as a soft fabric door so the kids can have secret meetings, and two handy storage boxes for all their fave things.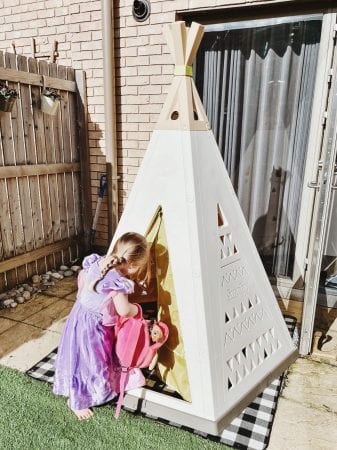 THE NOT SO GOOD BITS
I can't say I have many criticisms when it comes to this excellent kids teepee from Smoby.  Before purchasing, I would recommend parents measure up the size to ensure you have a space for it to fit within your home / garden.
I also would have liked to have seen a mat / blanket included for use with the teepee.  It was easy to use one of our own picnic blankets, but I feel that would have been a nice added touch to have one included.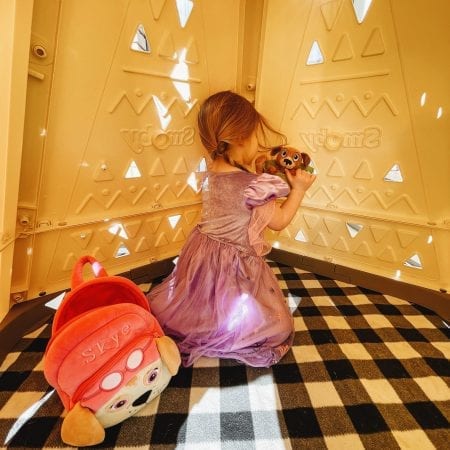 PRICE POINT
The kids teepee retails for £179.99 and is available to purchase from Very.
So, whilst it is on the expensive side, it is a top quality product and in my opinion worth the price tag.  From experience with owning the Smoby slide, we know that the durability of these product will stand up to a toddlers antics.  And after 2 summers outside, our slide has not discolored or suffered any sun damage.
This kids teepee can be used inside and out, adding extra value.  Plus if you look after this item, I think it would be easy to on-sell once your children outgrow it.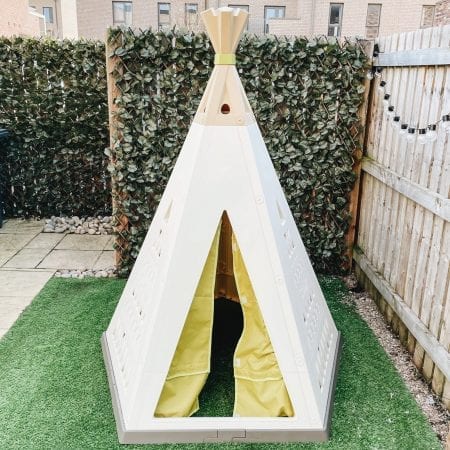 OVERALL REVIEW
As a family, we are so impressed with the Smoby Teepee Tent.  The quality and design are exceptional, and this tent will provide hours of entertainment for our daughter.  If you are looking for a kids teepee then look no further than this excellent product from Smoby – I can guarantee you will not be disappointed.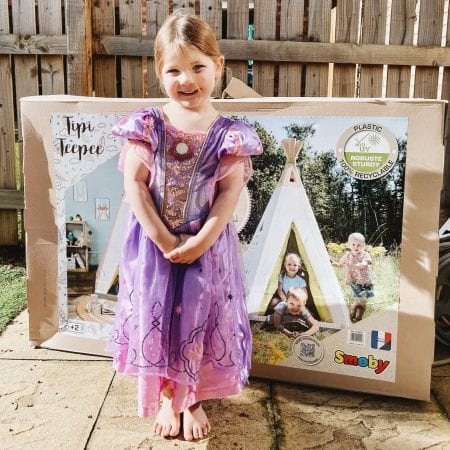 Disclaimer: We were kindly gifted the Smoby Kids Teepee Tent in exchange for an honest review on Wander & Luxe.  All opinions are my own.
If you loved this post, Pin It!