Are you looking for things to do in Antalya Turkey? There is no doubt, a trip to Turkey is definitely a great idea. No matter what you do, you shouldn't miss the unique opportunity to visit Antalya. Antalya is a large, coastal city in Southern Turkey that will steal your heart. This place is full of history, outstanding views, beautiful beaches and excellent restaurants. It is guaranteed that you won't want to go back home once you spend just a couple of hours there. But you should know what to do in order to be certain that you won't miss anything cool. Check out the top 4 things to do in Antalya Turkey below.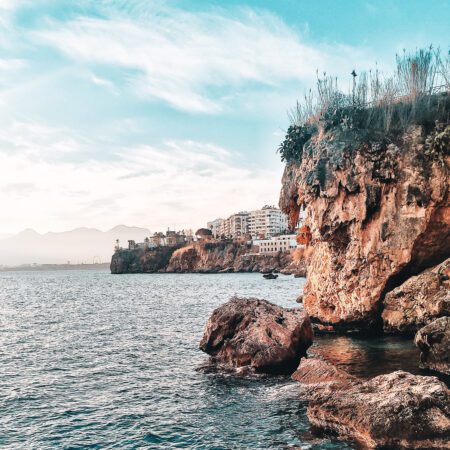 4 Incredible Things to do in Antalya Turkey
1.    Wander Around The Old Town
Wear your trainers and go on a long walk around Antalya's Old Town. The character of the historic Kaleiçi neighbourhood will manage to transfer you back in time. You will get to walk on cobblestone streets and admire the old Ottoman mansions that have been preserved. There are several attractions that you should pay a visit to.
For example, the Hadrian's Gate, which is what remains of the walls that used to surround and protect the city, the Yivli Minaret Mosque, which was built in the 13th century, the Ulu Mosque with the distinctive Kesik Minaret and the Old Harbour are all spots you shouldn't miss on your trip to Antalya!
2.    A Day Trip To Aspendos & Termessos
After exploring Antalya's Old Town, you may feel an intense urge to see and learn more about the glorious past of the Ottoman empire. The best way to satiate this desire is to go on an excursion to Aspendos and Termessos. In the former area, you will see an excellently preserved Roman theatre, which was probably constructed in the 2nd or 3rd century. As for Termessos, you will get to stroll through the ruins of the ancient city and see what is left of the streets, the agora and the theatre there.
3.    Go Swimming
Learning about the past is great, but we bet that you will need a bit of time to relax and just enjoy life. There is no better place to do that than a beautiful beach with crystal and clean waters. You should hire a car so that you can visit a number of beaches and stay there for as long as you want, without having to worry about missing your bus. A reliable car can safely pass both smooth and rocky roads.
Enjoy Travel helps you find and hire such an excellent car online at the best prices. Once you have secured the vehicle, you are ready to visit Konyaalti, Lara and Çirali beach. You can also go rafting in the river at the Köprülü Canyon National Park.
4.    See Antalya From Above
Would like to enjoy a cup of coffee, tea or a glass of wine while gazing at the imposing Gulf of Antalya and the lofty mountains of the Taurus range. If your answer is yes, then all you have to do is to get on the Tünektepe Teleferik. In about 9 minutes, you will have reached the top of a brilliant hill called Tünektepe. There you can grab something to eat or to drink and admire the amazing view of the city, the sea and the mountains from above!
We hope this post about 4 incredible things to do in Antalya Turkey has sparked your wanderlust and given you some inspiration for your upcoming travels. Go on, get out there and explore this amazing world we live in!
this is a contributed article