There are so many interesting places around the world where you can see and experience unique and extraordinary things. So, if you are someone who loves to travel, it is always greatly satisfying to visit such locations that might be on your bucket list, because they provide an unforgettable adventure.  The tourist attractions in China are some of the most incredible places in the world that you really must visit at least once in your lifetime.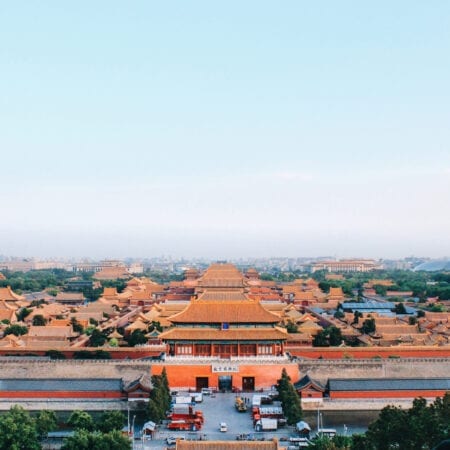 Many regard China as a paradise of cultural experiences for travelers – there is just so much to see and do.  A visit to this country will accommodate all types of travelers, TEFL graduates and explorers.
There are also a vast array of world class tourist attractions in China to visit – many are like nothing you will see anywhere else. Before your travel, you must ensure you have the appropriate visas which can be sourced here – https://visaexpress.com/visa-for-china-from-us, and the same company also provides Chinese document authorization services.
disclosure: this is a partnered post
Great Wall of China & The Forbidden City
You can, for example, start with a visit to the Great Wall of China. It is a massive and remarkable construction visible even from space. The Great Wall is the biggest object that man ever made so it is one of the top tourist attractions in China. Millions of travelers have a desire to visit this impressive landmark every year.
The Great Wall is open to visitors and allows you to walk over it. The structure is strong and tough despite the fact it was made many years ago. Did you know you can even walk from the beginning to the end?!? Still, it would be a discipline reserved for young and people of excellent physical conditions. The length of the wall is 21,194 kilometers so it would take weeks if not even months to complete such a mission.
The Great Wall is definitely an amazing structure, but it is not the only historically important place in China. There are actually a lot more of these. Other tourist attractions in China include the Forbidden City (which was previously the Chinese Imperial Palace) located in Beijing.
The Forbidden City is a remarkable but now empty town which was developed in the 15th century. Today you can witness the unique objects that were housed there in the traditional Chinese style. It is definitely an interesting experience for travelers from the West because such buildings, houses, and monuments are very different from those built in their home countries. Furthermore, they are particularly unique to China.
Terracotta Army
The Terracotta Army is another example of one of the popular tourist attractions in China. The location contains thousands of concrete-built soldiers deployed in combat formations and positions. Each of those warriors holds some sort of weapon, and they are ready to fight.
The Terracotta Army was built immediately after the death of the First Emperor. The creators wanted to provide him an army that could protect him in another world, and that's why they developed the figures. All the soldiers are made in natural size, and historians believe they are actually developed in the same measures and physical characteristics of the real Chinese soldiers in that period of time.
Natural Attractions
China also has a beautiful natural landscape. Landmarks which have existed for hundreds of thousands of years which leave a strong impression on everyone who visits them.  It is one of the tourist attractions in China which is not to be missed.
The Li River or Zhangjiajie National Park are just a couple of the notable natural attractions. Both offer remarkable adventure and landscapes you cannot see anywhere else in the world. Although you should be mindful that China is quite a big country and you may need to fly to different cities to be able to enjoy everything that China has to offer!
And finally, it is also really useful to know that the prices in China are generally pretty low compared to those in Western countries. This is even more incentive to visit China, especially if you are on a budget. Tourists can take advantage of this and enjoy a really affordable traveling adventure.
So what do you think, will you be adding China to your bucket list to visit all of its incredible tourist attractions?  Least of all, you know you are going to be in for a treat with all the amazing Chinese food!
this is a contributed article