When travelling with a baby, it is essential to be prepared for anything that may come your way. Here are some essential tips and items to bring with you on your trip.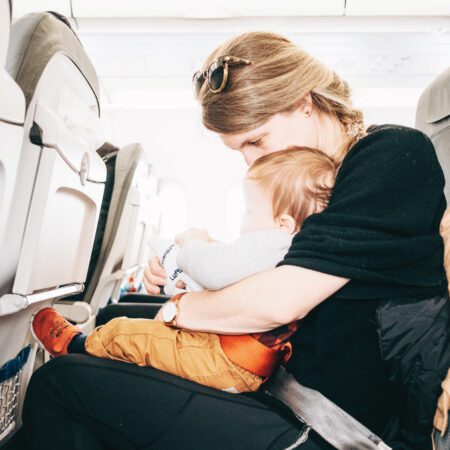 Top Tips When Travelling With A Baby
1. Pack the Essentials
When travelling with a baby, there are certain items you must make sure you have packed for your trip. Make sure there are enough diapers and wipes, bottles or formula (if needed), and extra clothes in case any accidents arise during transit. Don't forget to bring along a portable changing mat as well as blankets and bibs for meal times.
2. Plan Ahead for Meals
While it can be tempting to grab food on-the-go when travelling with a baby, it's essential to plan ahead. Keep snacks and organic baby food handy in case they get hungry while out and about or pack snacks in advance if flying or taking an extended car ride. Whenever possible, incorporate healthy snacks and meals into your journey as much as possible.
3. Organisation is Key
Travelling with a baby can be overwhelming, so to make things easier, organise all their items such as bottles and diapers in an easily accessible bag or container before leaving home. This way, you'll know exactly where everything is when needed instead of having to search aimlessly for things.
4. Plan ahead for delays and interruptions
No matter the season or circumstances, it's wise to plan for the unexpected when traveling with a baby. Make sure you have activities tailored for your infant's age group as well as snacks and drinks on hand to keep them occupied during long drives.
5. Research Your Destination
Before embarking on any long journey, it's essential to research your destination ahead of time and see what amenities will be available when you arrive. For instance, make sure there's a grocery store nearby in case you need to pick up items once at your destination, and check if there are any child-friendly attractions nearby as well.
6. Dress for Comfort
When travelling with a baby, comfort is paramount! Make sure both yourself and your little one are dressed comfortably for the journey, keeping layers handy in case temperatures fluctuate. Shoes should also be comfortable as there's likely to be plenty of walking involved while out exploring at your destination.
7. Take the Appropriate Stroller
If you're taking a stroller along for your vacation, make sure it is suitable for your child's age and size. Many airports provide loaner strollers, so check if that is an option before investing in an expensive travel stroller.
8. Bring Entertainment With You
On long car rides or flights, it can be challenging to keep toddlers and babies entertained. Therefore, having some form of entertainment on board such as books or toys can help pass the time and even prevent meltdowns.
9. Always have a first aid kit handy
Make sure you have the essentials packed for your trip, but never forget about bringing along a small first aid kit just in case of any minor medical emergencies during the journey. Keeping your kit nearby can help put your mind at ease and provide quick relief if needed.
10. Take Breaks as Needed
Travelling with a baby requires frequent breaks – they may need feeding, changing or just some comfort during the journey. To prepare for these needs, plan ahead by scheduling stops along the way so both you and your little one can rest and recharge before continuing on with your plans for adventure.
These tips can make travelling with a baby much more enjoyable, and reduce stress levels for both you and your little one. Be sure to take your time when packing, plan ahead as much as possible, and always double-check the destination before leaving home. Following these simple guidelines will guarantee that your journey is stress-free!
this is a contributed article