Sri Lanka is a magical and wondrous country, with a rich culture and endless breath-taking views from shore to shore. There are many well known tourist hot spots that you may have heard of, but with such an extensive list of beautiful places to explore, there are plenty of hidden gems of Sri Lanka that you probably aren't aware of.
Whether you travel with a tour or follow your own itinerary, there are some things to be aware of when traversing Sri Lanka. From being ethically minded to finding lesser-known places of interest, here are four ways to explore this stunning country.
4 Ways To Explore The Hidden Gems Of Sri Lanka
#1: Be Ethically Conscious
Everyone wants to see elephants, but unfortunately this has led largely to the tourism industry exploiting them and using them for working and riding experiences, often at a terrible cost to the animals. For the ethical traveller, a beautiful and morally conscious way to appreciate these amazing animals is to visit the Elephant Freedom Project in Sri Lanka. This family run organisation pledges to never ride their elephants or subject them to wood logging, instead focusing on rehabilitation and protection from other less-ethical companies who are likely to abuse them. You can also take a walk accompanied by the elephants down to the river, where you can enjoy them washing themselves and playing in their natural habitat.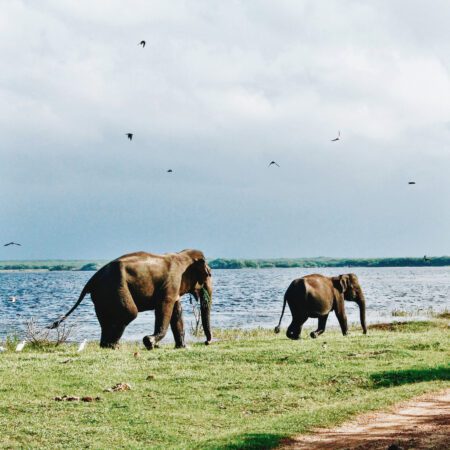 #2: Enjoy A Tuk Tuk Ride To The Falls
Bomburu Ella Falls
Sri Lanka is home to many spectacular waterfalls, but one of the most beautiful is arguably the Bombura Ella Falls. Found deep in the undulating countryside near Nuwara Eliya, this majestic waterfall is well worth visiting. Whilst you do have to hike up a generous amount of steps and follow a track for about a mile to find it, the immense wall of water cascading from a height of 50m high into the rocky pool below is a sight to behold.
Be cautious when exploring the lower levels of Bomburu, as the waterfall is powerful and the pool is extremely rocky. Although providing amazing scenery and photo opportunities, this fall is not an ideal place for swimming. If you want to relax in the water beneath a waterfall, head instead to Diyaluma falls.
Diyaluma falls
One of the best ways to reach Diyaluma Falls is to experience a tuk tuk ride through the luscious tea plantations of the highlands of Poonagala. Then, you can trek until you are welcomed with the magnificent view of the country's second largest waterfall, where a massive amount of water falls from a height of 220m, before flowing through a series of infinity pools that make up the valley below. surrounded by rich green vegetation, the pools of the lower valley are perfect for swimming or sunbathing on the rocks in the dry season.
#3: Get Close To Nature
Shark Reef Point can be found on the Pigeon Island National Park, named due to its importance as a breeding ground for the rock pigeon. The area consists of two islands, with the waters between them making up a reliable place for even inexperienced snorkelling enthusiasts to see Blacktip Reef Sharks up close. This non-aggressive species of shark can grow up to five feet long and are quite friendly toward humans. With both deeper waters and shallow areas, the area is a perfect place for all ages to explore the colourful coral reefs and the abundance of over 300 species of coral fish, plus a variety of sea turtles.
#4: Stay Safe
Wherever you explore in Sri Lanka, be sure not to wander too far off the beaten path without taking precautions to ensure your own safety. Make sure you have a charged mobile device with GPS sharing turned on, as it can be easy to get lost in the vast countryside. Of course, be prepared for warm temperatures and potential heavy rainfall due to the tropical climate, and make sure you take plenty of water with you when you go exploring.
We hope you have found this article with ways to explore the hidden gems of Sri Lanka insightful. Tell us – what excites you most about travelling to Sri Lanka?
this is a contributed article