Are you looking for the best things to do in Perth at night? Whether you're a local looking for a romantic date spot or a tourist looking to taste the vibrant nightlife of the city, this list will cover ways to make the most out of Perth after hours.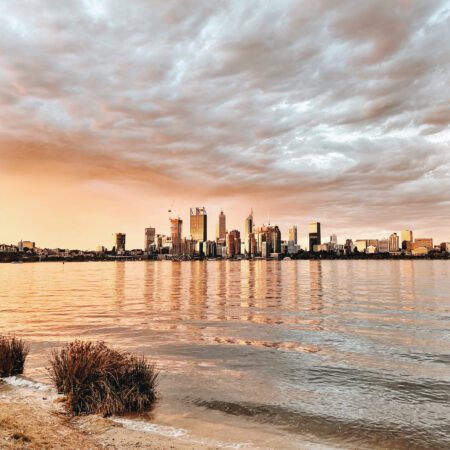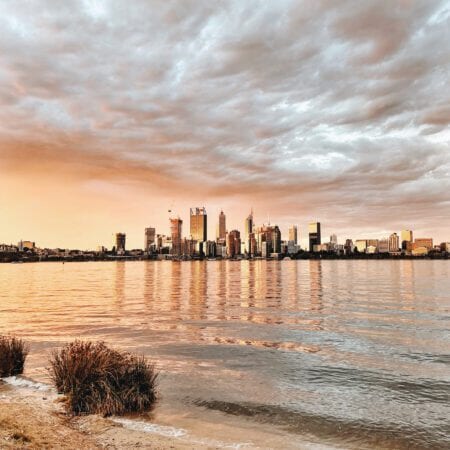 If you are looking for some daytime activities instead, check out our list of things to do in Perth during the day. So, without further ado, here are 6 perfect ways to spend a night in Perth!
6 Best Things To Do In Perth at Night
#1: Get on A Rickshaw Bar Tour
One unique way to get to know the nightlife of Perth is to take a rickshaw bar tour. This involves being seated in a decorated, pedal-powered rickshaw while it zooms through some of the best bars in the city.
Not only is this an environmentally friendly way to bar-hop, but it's also a great way to meet new people and see the city from a new perspective. From dazzling art graffiti to in-house drinks, riding a rickshaw with some friends or a special someone can be a memorable way to spend a night in Perth.
The best part is that the bars you'll go to are all homey, hole-in-the-wall establishments that don't amass a huge crowd. This makes for a more intimate and relaxed setting, which is perfect if you're looking to enjoy some good company and engaging conversation.
#2: Take a Stroll Through Kings Park
Kings Park is one of the most popular tourist destinations in Perth. And for good reason! This massive park is brimming with fantastic flora as far as the eye can see. With over 400 hectares of land to explore, you could come here in the late afternoon and stay until the late evenings and still not see everything.
While the daylight provides ample lighting to enjoy the sights, Kings Park possesses a unique and equally-enticing energy during the night. The paths are lit up, making it a romantic spot for a couple. And even if you're walking alone, the serene beauty of the place is perfect for some introspection and a nature-infused pick-me-up.
The park is open for 24 hours, so you can hop in and out no matter what time it is. There's also a Botanic Garden within the park that has night-flowering plants, so make sure to check them out if you're looking for a unique experience.
#3: Go Out for Dinner and Drinks
Perth has an explosive culinary scene, so you don't have to search far and wide to find a restaurant that'll delight you. Whether you're looking for fine dining or something more casual, you can find it all in Perth.
For instance, if you're craving Asian cuisine, My Bayon has a fantastic Cambodian menu that's sure to tantalise your taste buds. If you're in the mood for Italian, Post serves up some of the best pasta dishes in town. If you're looking to try out Australia's finest, Wildflower, Sayers Sister and Rusty Fig all have a delectable modern Australian menu.
No matter your budget, there are plenty of options available to you in Perth. If you want something more tailored to your specific tastes, you can hire a private chef who will design a dining experience just for you. Find out more about these personalised gastronomic services.
#4: Fremantle Prison Tour
Does the idea of spending a night in a prison sound morbidly appealing to you? If so, take a half an hour drive out of Perth and into Fremantle and visit one of the most iconic prisons in Western Australia.
You'll be guided by an expert tour guide who will take you through the prison grounds and recount its fascinating history. The tour will include a plethora of spooky stories, fascinating trivia, and rich detail about the darker origins of Western Australia.
On top of that, the prison tour will be illuminated by torchlight and dim overhead lights, making the experience all the more atmospheric. If you're not easily squeamish, this activity is something you have to try at least once if you're looking for something unique and slightly out of the ordinary.
#5: Go Shopping at the London Court 
If shopping is more your thing, then head on over to one of the most unique shopping districts in all of Perth— London Court!
This arcade was built in 1937, making it a place with a deep history. And, inspired by the English, the architecture of this shopping district is nothing to scoff at either. It features ornate furniture, window boxes, and distinct early-20th century English architecture.
At night, the London Court is illuminated by the various stores around the neighbourhood, making it a picturesque hub where locals and tourists can both enjoy.
Of course, the main draw of the London Court is the shopping. You'll be able to find high-end and local boutiques that exude an authentic Perth charm that is sure to rub off on you as you stroll through this quaint street.
#6: Enjoy Performances in Northbridge Piazza
Every once in a while, the Northbridge Piazza plays host to some cultural and artistic performances. From open-air concerts to contemporary dance, there's always something new and exciting happening in this vibrant space.
The best part is that these performances are free. Aside from live shows, this outdoor space also hosts outdoor films and festivals from time to time. If you're close by, make sure to check the schedule and see if anything piques your interest.
So there you have it – 6 of the best things to do in Perth at Night. Which one is at the top of your list?
this is a contributed article