Are you considering a holiday to Koh Samui Thailand?  My advice would quite simply be – DO IT!! From experience, I can guarantee you that you will not be disappointed with a vacation to this island paradise.  I was lucky enough to celebrate my 30th birthday in Koh Samui a few years ago and it is still one of my favourite holidays to date.  From the smiling, happy people to the breathtaking beaches – this stunning Thai island is a destination you absolutely must add to your travel bucket list.
Whether you are travelling with kids, as a couple or with a group of friends, Koh Samui is a truly wonderful holiday destination.  So, lets take a look at 10 extraordinary reasons to visit Koh Samui Thailand.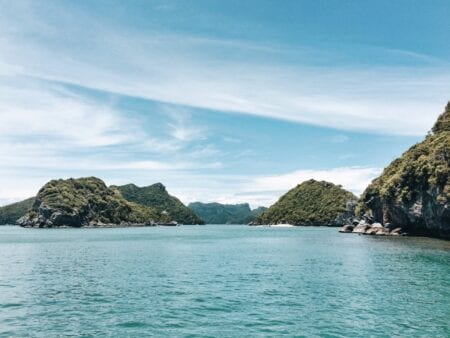 Getting to Koh Samui Thailand
Koh Samui is Thailand's second largest island and is located in the Gulf of Thailand.  You can travel to Koh Samui via plane or ferry from various destinations.  Koh Samui Airport accepts international flights from places such as Singapore and Kuala Lumpur, as well as domestically from other areas of Thailand.  The airport is privately owned by Bangkok Air and is a unique and beautifully kept airport.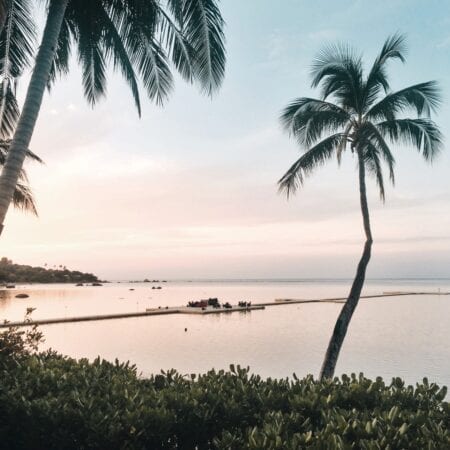 Koh Samui Weather
Koh Samui Thailand has a tropical climate, meaning that it is often hot and humid.  The island also experiences a 'rainy' season which runs from approximately October to December, with November traditionally being the wettest month.  Despite the rain, the year round warm weather makes Koh Samui the perfect place to escape for a holiday, especially during the winter months at home.
10 Extraordinary Reasons to Visit Koh Samui Thailand
#1: Koh Samui Beaches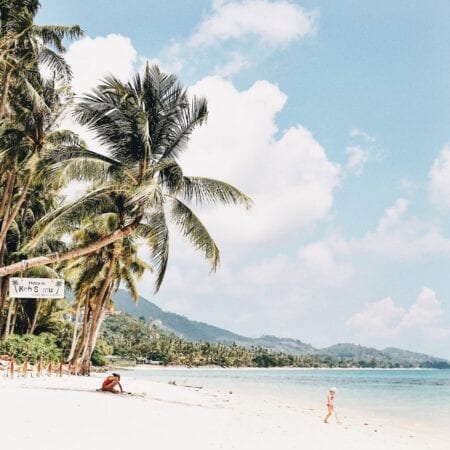 When I think about a Koh Samui holiday, the first thing that immediately springs to mind is the stunning beaches.  Pristine white sand, tantalizingly clear blue waters, shorelines scattered with palm trees and a stunning mountainous island background.  Whether your beach day involves going for a walk, taking a swim or just relaxing on the shore with a good book, you will feel like you are in paradise.  One things for certain, Koh Samui beaches are a little piece of heaven for you to enjoy.
#2: Indulge In Delicious Street Food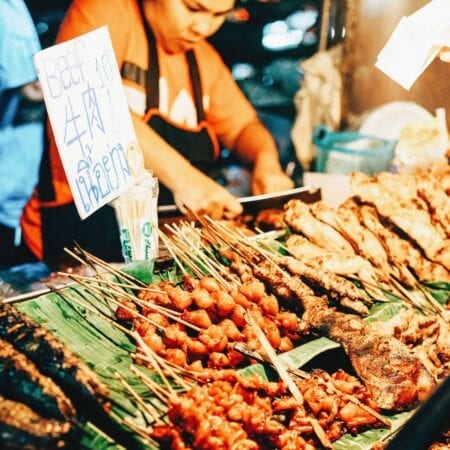 There is a fantastic selection of night markets all across Koh Samui selling mouth watering street food. Enjoy aromatic food cooked right in front of you, straight from the sizzling BBQs of the street vendors.  And be sure to wash it down with a crisp, cold local beer.  Many of the night markets also have a selection of market stalls selling a diverse range of wares which will appeal to the thrifty shopper.  You will find everything from knock-off sunglasses to Koh Samui souvenirs.
#3: Spend A Day Snorkelling & Island Touring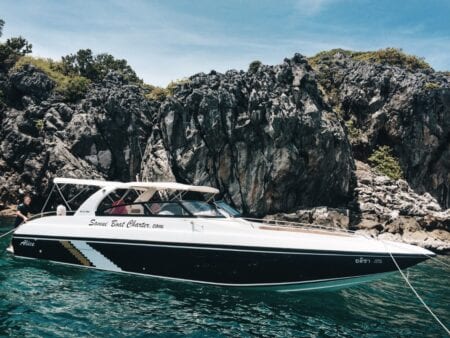 Ensure you plan a day to explore the spectacular waters surrounding Koh Samui and the neighboring islands.  Book a jet boat tour and enjoy the mesmerizing seascape of Angthong National Marine Park as you speed across the ocean.  There is an array of marvelous sea life, birds and wildlife to be seen like nowhere else in the world.  Go snorkelling and discover the wonders of what lie beneath the surface.  Above water, be witness to the limestone pinnacles which are home to caves, sheer cliff faces and sandy beaches.
Stop off at Mae Ko island to see the sights, visit the impressive emerald seawater lake in the middle of the island and try your hand at kayaking.  You are guaranteed a fun filled, memorable day experiencing the marvels of mother nature in the Gulf of Thailand.
#4: Try A Cooking Class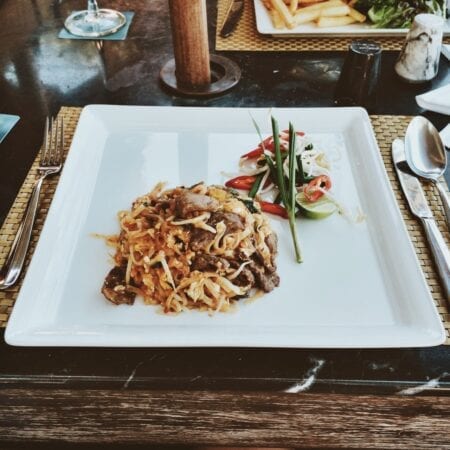 It is likely you have enjoyed Thai food in the past – say a Pad Thai or Green Curry.  But imagine if you could recreate that authentic taste at home?  So, whilst in Koh Samui, why not try your hand at an authentic Thai cooking class?  Learn how to prepare the traditional dishes yourself under the guide of an experienced chef, and then enjoy the fruits of your labour.  A unique cultural experience which you can cook again at home after your holiday.
PS – if you simply cannot wait until you can travel to Thailand, try the Rosa's Thai Meal Kits at home.  All the ingredients delivered to your door with complete cooking instructions – its the next best thing to being in Koh Samui!
#5: Relax With A Thai Massage
No Samui holiday is complete without experiencing a traditional Thai massage.  Whilst you could visit a professional spa, why not indulge in a really unique experience and opt for a massage in an open air hut on the beach?  Thai massages are meant to relax and rejuvenate the body, however they are also renowned for being a particularly 'strong' massage.  So be warned, if it is your first Thai massage, perhaps ask your masseuse to go lightly on you.
#6: Explore Samui & The Jungle
Should you be looking for something more adventurous to do on your Koh Samui holiday, then set aside a day to explore the island and its jungle.  You could opt for an organised tour or alternatively hire a jeep and drive yourself.  Discover this lush, green island's best spots – from the magnificent Na Muang waterfall, ancient Buddhist temples, and spectacular vantage points to enjoy panoramic views of the island's landscape.  An experience not to be missed if you want to see everything Koh Samui has to offer.
#7: Enjoy The Simple Way Of Life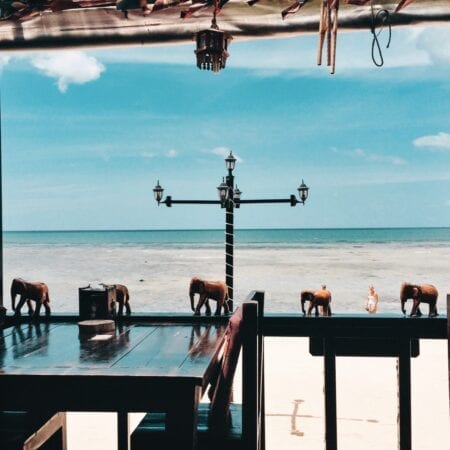 The way of life on Koh Samui is very relaxed and simple.  This was immediately apparent when we arrived at the airport and discovered the arriving passengers terminal to be open air.  I can't say I have experienced an airport like it anywhere else in the world!
There is no stress or worries during your time in Koh Samui, and its the ideal place to enjoy the simple pleasures in life.  Relax on a quiet beach in Lamai, grab a tasty bite to eat from a roadside shack or shop little market stalls in Chaweng for interesting pieces.  Be warned – you may decide that you never want to leave Koh Samui!
#8: Appreciate The Smiling Happy People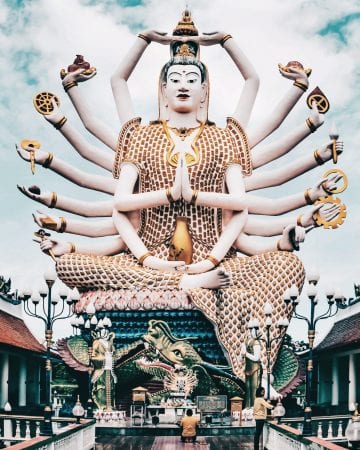 There is a good reason why Thailand is often referred to as 'The Land of Smiles'.  And Koh Samui is no exception to this rule.  The people on this island are just so happy and smiley ~ ALL THE TIME.  I have never felt so welcome in a foreign country when travelling abroad – everyone we met was so warm and genuine in our interactions with them. I must say, the smiling and happiness rubs off on you pretty quickly too!
This cultural trait of Koh Samui is likely attributed to the fact that many of the people practice Buddhism.  A religion which promotes a lifestyle of spiritual development and deep insight into life, with the goal of reaching a state of 'nirvana'.
#9: Unwind At A Luxe Resorts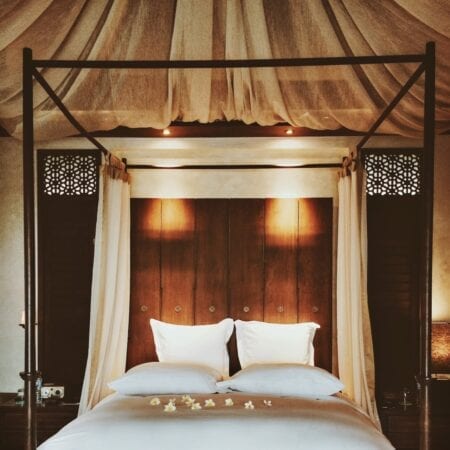 Koh Samui has a generous selection of luxe resorts for travellers who love a little indulgence on their holidays.  It is true that there are also plenty of backpacker lodges and economical options, but our Koh Samui holiday was made extra special with an exquisite suite, private plunge pool and unobscured views of the beach.  Many of the popular luxury hotel chains have accommodation in Koh Samui Thailand, including the W, Le Meridien and Four Seasons.
#10: Shop Till You Drop at Central Festival Samui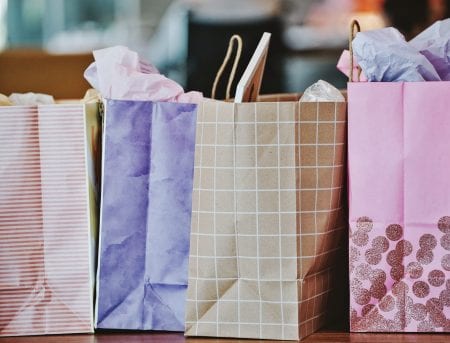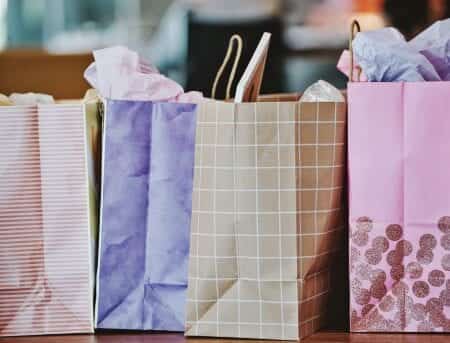 It is unlikely that you will travel to Koh Samui for a shopping holiday – its not what this gorgeous tropical island is all about.  However, if you are craving a little retail therapy during your time in Koh Samui Thailand, than look no further than Central Festival Samui.  Enjoy a small selection of quality shops in this modern mall, selling everything from clothes to electronics.  There is also a handful of respectable restaurants to dine at in the shopping centre.  The perfect option if you require a few hours respite from your beach day.
So, have I convinced you that Koh Samui Thailand is a place that you simply must add to your bucket list?  Its a stunning island with a laid back and carefree attitude.  If you are looking for a relaxing beach holiday with authentic cultural experiences and the option of exciting adventures to choose from, then this is definitely the place for you to visit.  Personally, I cannot recommend Koh Samui Thailand highly enough as a holiday destination, and I cannot wait to return some day soon.  Safe travels!
If you loved this post, Pin It!