Visit Singapore with kids in tow and you are guaranteed an incredible family holiday. Singapore is easily accessible from all over the world as it is a transport hub.  So, whether you have a few days as a stop over or make it your entire holiday, there are many reasons why you should visit Singapore.  I have spoken previously on the blog about why you should travel with kids  and I bet you are wondering what are the fun things to do in Singapore with kids?
The answer is, HEAPS!  This city thrives on tourism and they just keep adding more fabulous attractions.  So keep reading for 14 things to do in Singapore with your family.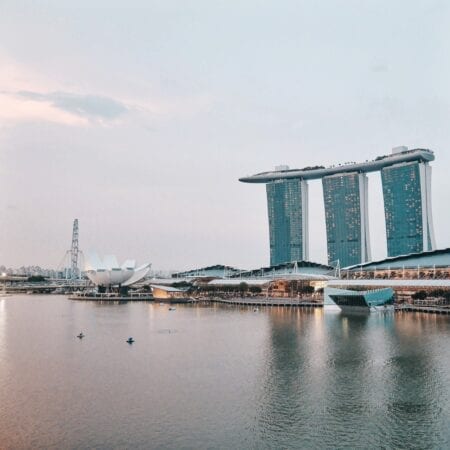 Why Singapore?
Singapore holds an extra special place in our hearts – we have visited many times and got married there in 2014.  And therefore it is really easy for me to justify why I think you should choose Singapore as a holiday destination.  It is quite Western for a South East Asian country, however look under the surface and it is a vibrant melting pot of cultural experiences.  Singapore is very clean, the transport system is excellent and English is widely spoken.  The tropical weather means it is normally hot and humid, but it is subject to rainy season.
There is literally something for everyone in this uber cool landscape.  Whether you want to shop till you drop on Orchard Road, wine and dine at fancy restaurants or deep dive into cultural and historical experiences.  Singapore also caters greatly for children and families, so see below for all the wonderful things to do in Singapore with kids.
14 Fun Things To Do In Singapore With Kids
#1: Make A Splash At Adventure Cove Waterpark
An aquatic fun park filled with rides for people of all ages.  Spend your day splashing down water slides, cruising along the lazy river, catching waves in the wave pool or snorkeling over the rainbow reef.  This park has everything your family needs for a day of fun in the water.   There are lockers for ease of storing your things and life vests available for less confident swimmers.
Located on Sentosa Island, the waterpark is accessible via taxi from the mainland, or if you want to try something different, take the Singapore Cable Car.   Adventure Cove Waterpark is the perfect place for you to escape the humid weather and is one of the really fun things to do in Singapore with kids.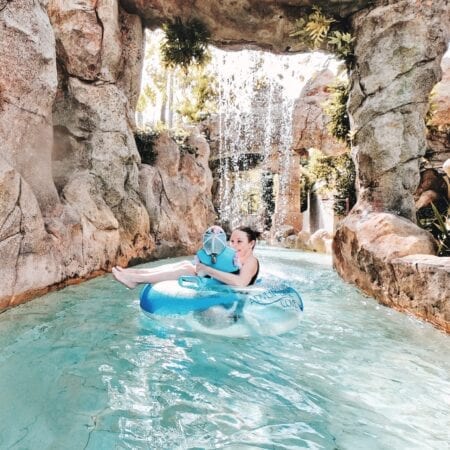 #2: Get Up Close To The Pandas At River Safari
We chose to visit the River Safari for the promise of seeing pandas.  And we were not left disappointed.  This is a gorgeous, clean and spacious establishment.  My daughter absolutely loved looking at the different specifies of fish, strolling through the monkey cage and feeling the marine life in the touch pool.
The River Safari is located directly next to the Singapore Zoo so it would be possible to visit both on the same day.  Just a 30 minute journey via taxi from the City Center, the River Safari is a must visit whilst in Singapore with kids.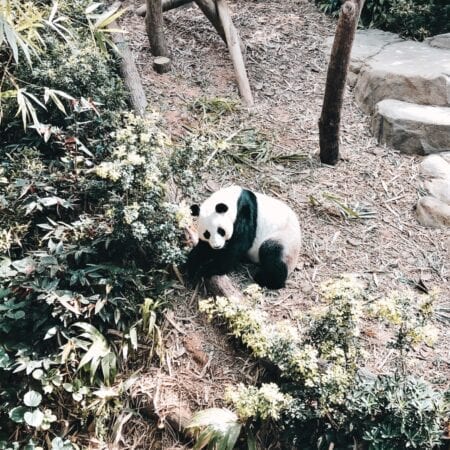 #3: Take A Cruise Along The River
Let Singapore River Cruises take you on a 40 minute journey through Clarke Quay, Boat Quay and Marina Bay.  A river cruise is a great way to see the city from a different vantage point and one of the perfect things to do in Singapore with kids.
Singapore River Cruises operate traditional and rustic looking Bumboats.  Although it is interesting to note that the fleet has been upgraded over the years and they are now becoming environmentally-friendly electric versions.
Sit back and relax taking in the sights from the waterways and learning about the history of Singapore's rivers.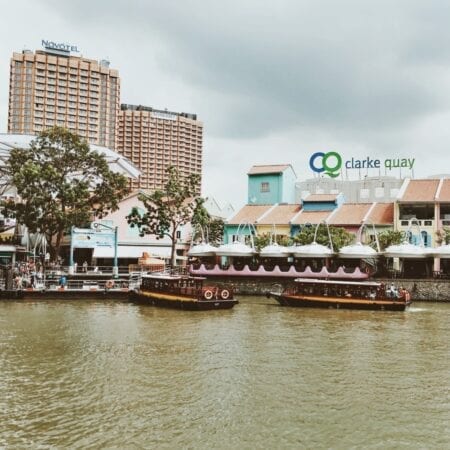 #4: Have Breakfast With The Orangutans At Singapore Zoo
The Singapore Zoo is world class and has so much to offer its visitors.  They claim its the only place in the world you can have breakfast with the orangutans, something I have fond memories of doing when I was a teen.  There are several shows to enjoy throughout the day and a huge array of animals to see – everything from African Lions to Zebras.
Access to the Rainforest Kidzworld water playground is included in the price of your admission and is the perfect opportunity for kids to cool down and burn off some energy.
For something a little bit different, why not take part in the Night Safari.  There is a guided tram tour to see the nocturnal animals and a creatures of the night show – its certainly one of the more memorable things to do in Singapore with kids!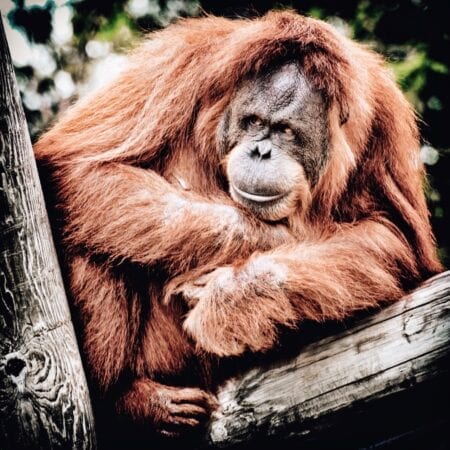 #5: Rub Shoulders With Movie Stars At Universal Studios
For the movie loving families,  a trip to Singapore is not complete without a day at Universal Studios.  Pose with your favorite characters, catch a show like the Shrek 4-D Adventure, watch the street entertainment or enjoy one of the many rides.
Thrill seekers can enjoy the dueling roller-coaster or the Revenge of the Mummy indoor roller-coaster.  And for the less adventurous family members there are plenty of gentle rides.
It wouldn't be a trip to Universal Studios without stocking up on all the merchandise before your leave.  Can anyone say excess luggage?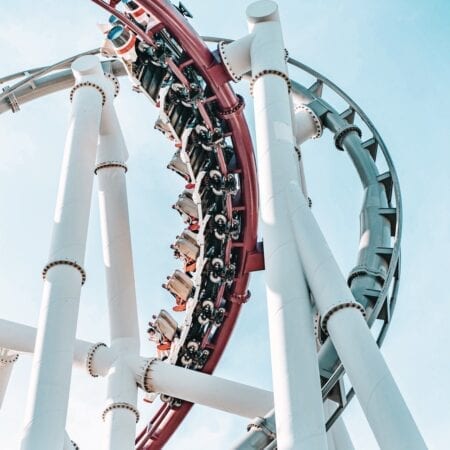 #6: Explore Under The Sea At S.E.A. Aquarium
The S.E.A. Aquarium is located on Sentosa, like many of the newer attractions in Singapore.  It contains an impressive display of over 100,000 marine animals and is beautifully presented.
The aquarium offer lots of special experiences such as Ocean Dreams – a sleepover at the aquarium, or a Sea Trek Adventure where you can walk and breathe freely under the water.  Of course there is also an opportunity to swim with the sharks – if you are brave enough!
There are plenty of daily shows so be sure to check the schedule and plan your day in advance.
#7: Swim In The World's Most Famous Infinity Pool
The infinity pool at Marina Bay Sands was quickly made world famous by everyone wanting to take a selfie for Instagram.  There is no denying the building itself and the pool are an architectural marvel.  Plus the view is of the Singapore skyline is simply breathtaking!
In order to access the pool, you must be staying at the hotel.  But in my opinion, the experience is well worth the price tag.  If you stay at the hotel you will also have direct access to all of the shops and dining options at the Marina Bay Sands Complex – an easy and convenient option for families.
You and your kids will love lounging the day away in this incredible pool.  So go on, you deserve a treat!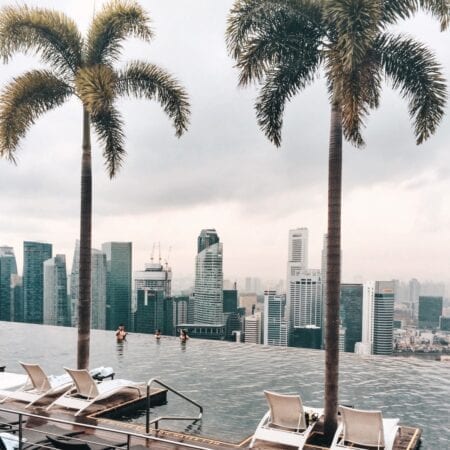 #8: Wander Around Garden's By The Bay
The spectacular Gardens by the Bay are an incredible place to spend a few hours in Singapore with kids.  From the super trees, to the huge indoor conservatories, to all of the interesting art sculptures throughout the outdoor gardens.
Your kids will also no doubt enjoy spending some time at the Far East Organization's Children's Garden.  They have a toddler play zone plus rainforest tree houses and a water zone for older kids.  Pack their bathers and let them enjoy this sensory overload.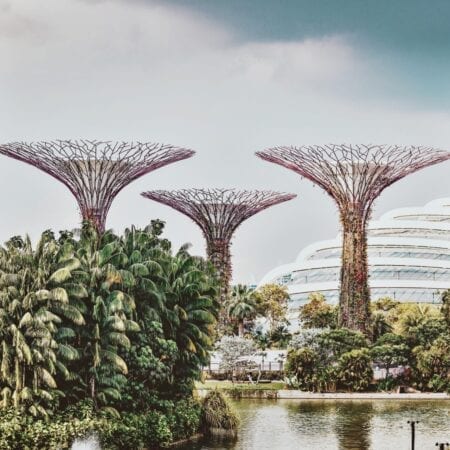 #9: Play Grownups At KidZania
KidZania is an interactive indoor theme park on Sentosa Island for kids aged 3 to 17.  The 'City' can be independently explored by your children and boasts buildings, vehicles and a functioning economy.  It gives children the opportunity to role play and learn through fun experiences.
The Singapore KidZania also prides itself to be the first establishment to house a full-wing fuselage of a Boeing 737 – how cool is that?  One of the most fun things to do in Singapore with kids – let your children's futures and dreams start here!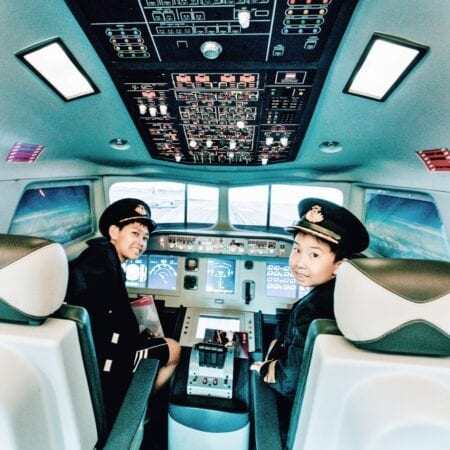 #10: Eat ALL THE FOOD At Newton Circus
The culinary scene in Singapore is amazing, and one of the best things to do in Singapore with kids is EAT!  Choose from celebrity chef restaurants, hawker markets or anything in between.  There are plenty of outdoor food courts in Singapore, but the one we keep on going back to is Newton Circus.  It has a very relaxed vibe meaning it is the perfect place to take children.
You can order food from any of the stores and they will deliver it straight to your table.  Personal favorites are the garlic king prawns, chicken satay and Singapore chilli crab!
#11: Try Your Hand At Mini Golf At Holey Moley
This crazy and wacky set up at Holey Moley is the perfect inside entertainment when it comes to things to do in Singapore with kids.  Singapore has a tropical climate and therefore can be subject to significant yet short lived downpours at certain times during the year.  Everyone is bound to enjoy the different themed and cleverly named holes from '9 Iron Throne' to 'Crappy Gilmore'.
Once you have finished your game of putt putt in this multi-sensory labyrinth, enjoy food and drinks at The Caddyshack Bar.  Or stroll out into the heart of Clarke Quay which has an abundance of restaurants, bars and entertainment.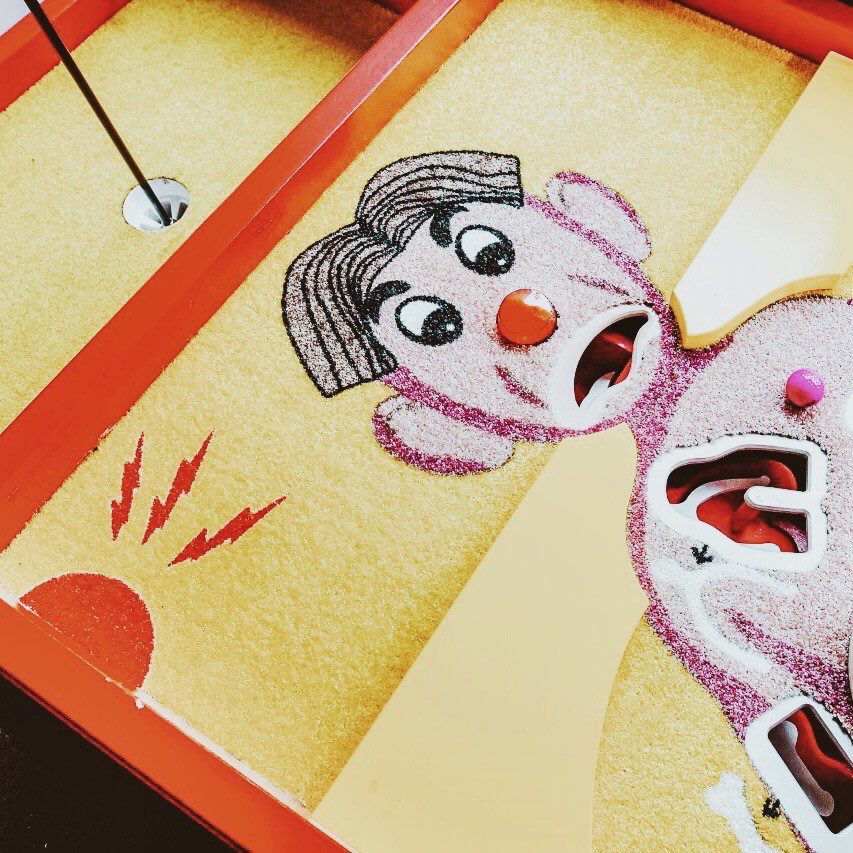 Tell me what child doesn't love toys?  Personally, I'm yet to find one! So why not fascinate and inspire the imagination of your kids at the MINT Museum of Toys.  This museum houses a world-class collection of vintage toys and collectible items.
The kids will marvel at the toys from around the world and across the centuries, whilst parents can be nostalgic about rediscovering toys of the past.  With thousands of toys on display, the museum is guaranteed to spark joy and memories for the entire family.  Definitely one to add to the 'must do' list of things to do in Singapore with kids.
NB: At the time of publishing this blog post, the museum is closed for refurbishment.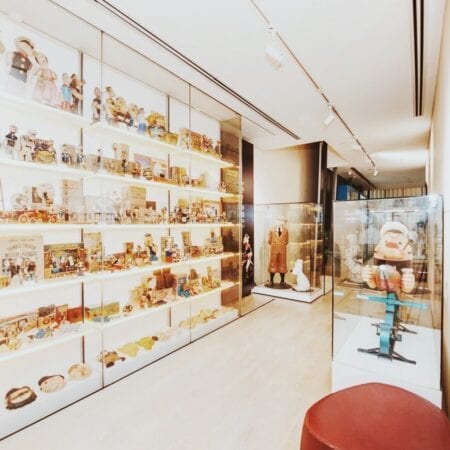 Looking for things to do in Singapore with kids that are a little different?  Why not drive over to Malaysia and visit LEGOLAND.  Yes, I said drive!  There is a bridge connecting the two countries making it easier than ever for you to visit the neighboring country.  In just under an hour, you could be in Malaysia for a fun filled day with the kids.
LEGOLAND is the perfect family day out with over 70 rides, slides, shows and attractions which are suitable for all ages.  Continue the adventure at LEGOLAND Water Park or even stay at the LEGOLAND hotel.  I wonder just how long it took them to build it out of LEGO?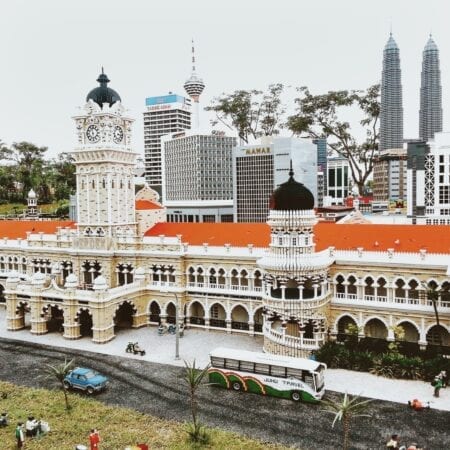 When the sun has set, the magic comes alive with the Spectra Light & Water Show over Marina Bay.  This 15 minute show comprises a 4 part story reflecting Singapore's journey to becoming the cosmopolitan city of today.
Immerse yourself in the stunning symphony of dancing fountains, lasers, visual projections and mist effects.  It is shown 2-3 times a night and is an incredible spectacle – a brilliant option of things to do in Singapore with kids.
So there you have it – all the fun things to do in Singapore with kids.  What do you think – have I convinced you to book your flights?  If you need more convincing, check out the Best Places to Travel with Baby in Asia.  I am certainly keen to plan another visit to this vibrant and mesmerizing city.  Let me know what you think your kids would enjoy the most!  Safe travels – Shell x
If you loved this post about things to do in Singapore with kids, Pin It!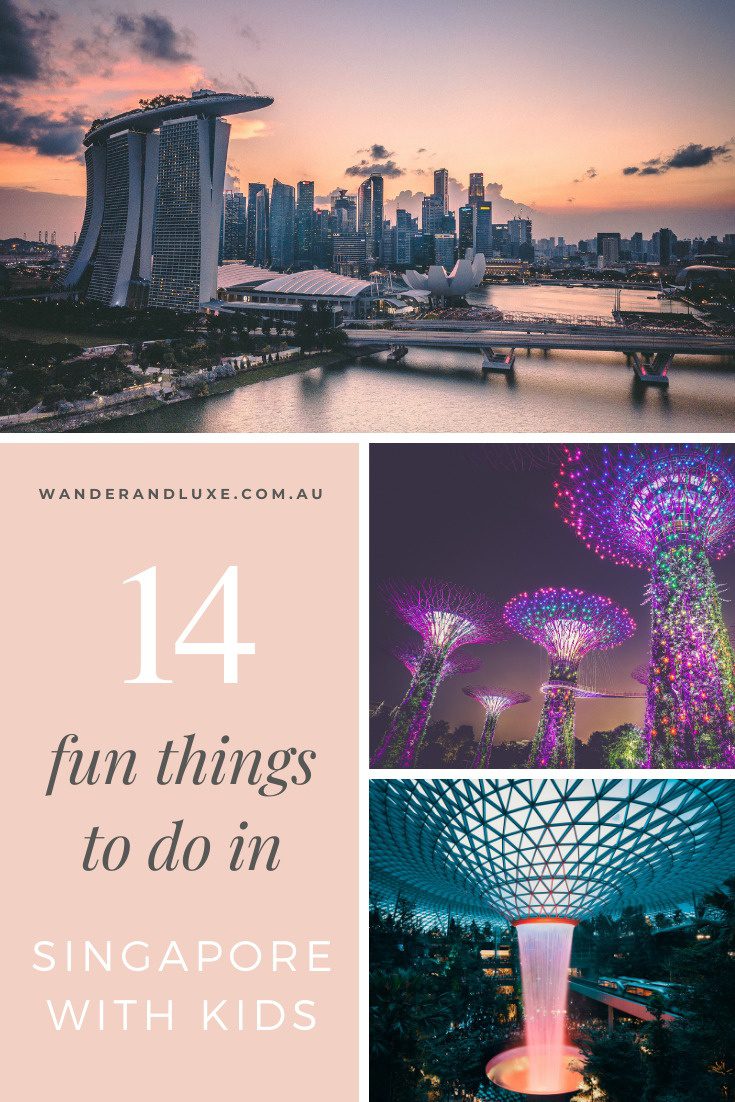 Did You Know: When you click on an Affiliate Link in this blog post about things to do in Singapore with kids, and book a hotel or holiday activity, it helps to keep Wander & Luxe running, at no additional cost to you! Thank you for supporting us x