I don't know about you, but I absolutely loved Winnie the Pooh when I was a child.  So when we were offered the chance to review these new Winnie the Pooh Soft Toys collection from Simba Toys, I couldn't resist.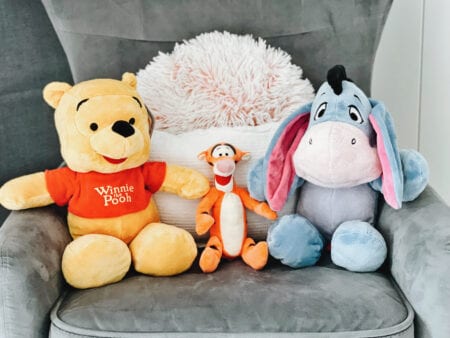 I still remembering purchasing a huge Eeyore from Disneyland when I was a teenager and having to cart it all the way home to Australia.  I even brought said soft toy to the UK to give to my daughter when she was born.
So, lets take a look at this new range of Winnie the Pooh Soft Toys and see how they stacked up.
ABOUT DISNEY PLUSH
Winnie the Pooh is a lovable fictional bear whom was created by English author A. A. Milne in the 1920s.  Pooh Bear and his friends have become memorable characters of many people's childhood, and its wonderful that they are still adored by people all over the world today.
As I mentioned above, if you are a fan of the Winnie the Pooh franchise then these new plush toys are the perfect companion for you or your kids.  The collection includes 3 of the main characters – Winnie, Tigger and Eeyore.  They are ever so cute, super soft and perfect for curling up on the sofa, snuggling at bed time or taking on an adventure.
FIRST IMPRESSION
I have to admit, my heart melted when I opened the box and spotted these gorgeous soft toys.  I just knew my daughter would be obsessed with them.  We waited for the perfect opportunity to gift them to her, and surprised her with them in her bedroom one afternoon.  It is evident from the pure delight on her face how much she loves these Winnie the Pooh soft toys.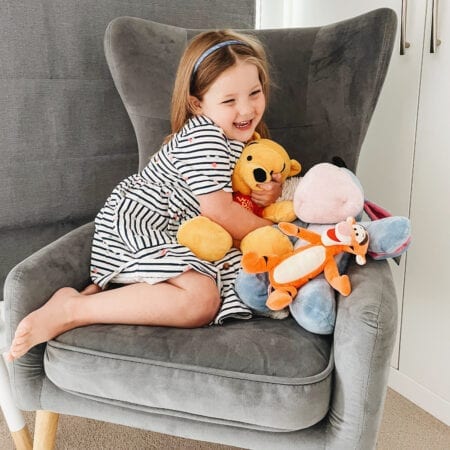 "You're braver than you believe, stronger than you seem, and smarter than you think." ~ Winnie the Pooh
WHAT WE LOVED
I love that these soft toys are the same old characters that I remember from my own childhood, but that they have been remade to a high standard for the next generation to enjoy.  These characters have been immortalized in film and tv shows over the decades, and still remain popular with young fans in the modern day.  There is no denying the superb quality of these wonderful Winnie the Pooh soft toys.  They are also a really great size, making them the perfect friend to tag along on days out, sleep overs and more.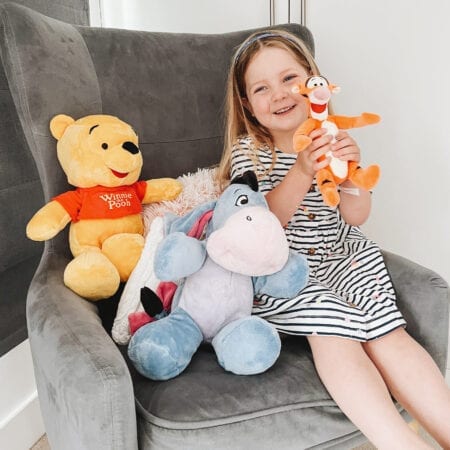 "Any day spent with you is my favorite day." ~ Winnie the Pooh
PRICE POINT
Each of the Winnie the Pooh soft toys are available for purchase on Amazon via the following link.  Simply choose your character and size!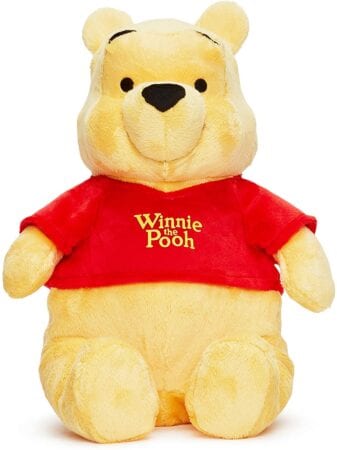 "The most important thing is, even when we're apart … I'll always be with you …" ~ Winnie the Pooh
We hope you love the look of these Winnie the Pooh soft toys just as much as our family does.  They are way too cute to resist and will be sure to bring a smile to anyone who is lucky enough to own one.
Before you go, if you are a total Disney fan, then don't miss my Disney Princess Wooden Toy Collection Review.
Disclaimer: We were kindly gifted the Winnie The Pooh Soft Toys in exchange for an honest review on Wander & Luxe.  All opinions are my own.