Madeira food warrants an entire blog post of its own.  Whilst there are many amazing things to see and do in Madeira, the cuisine is equally impressive.  This was our first trip to Portugal, which started with 48 hours in Porto, so we were eager to sample the local specialties.  After all, trying all of the food and drinks is one of the wonderful things about traveling.
Here I will share my insider tips on all of the Madeira food and drinks you need to try whilst on this fabulous island, as advised to us by the locals themselves. And, if you are looking for food related events in Madeira, check out what there is on offer with Eatwith.  Finally, to wrap up the blog post I have included a couple of noteworthy venues which I recommend you visit whilst in Funchal.
MUST TRY MADEIRA FOOD
All the Madeira Seafood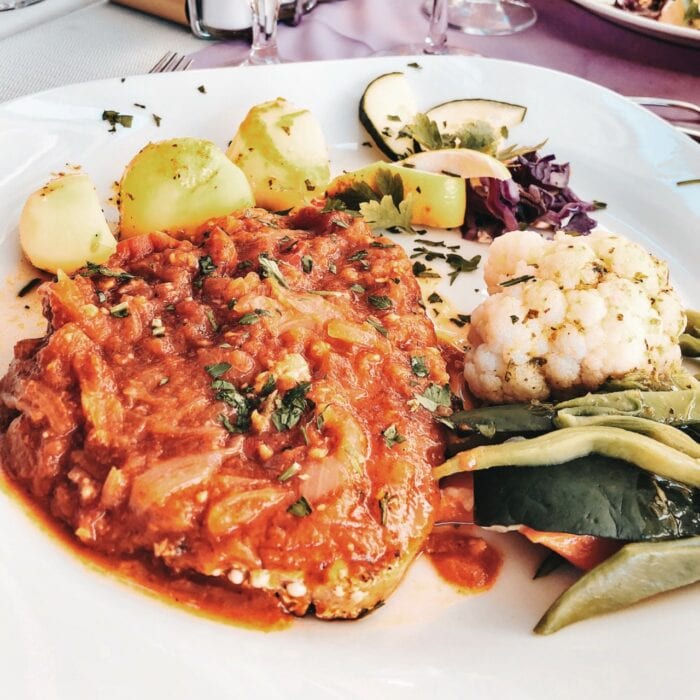 Madeira is an island off the mainland of Portugal, so it is a given that the seafood is going to be epic. We enjoyed lots of tuna, octopus and several other delicacies which I've specifically listed below.  Don't panic if you don't like seafood or cannot eat it, there are plenty of other options too.  But if you are a fan of seafood then you will be in foodie heaven.
Espetada
A giant meat skewer which is popular all over Portugal and a must try when it comes to Madeira food.  The meat of your choice is coated with salt, pepper and spices before being placed in the BBQ / wood fired oven to cook.  Take this delicacy to the next level by wrapping the pieces of meat in some Bolo do Caco.
Espada or Black Scabbered Fish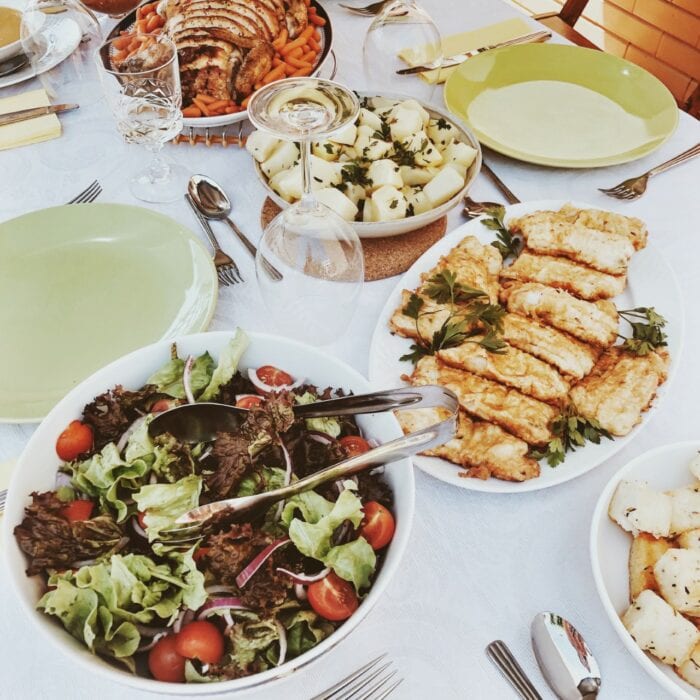 A deep water fish with fang like teeth, this fish is considered a delicacy when it comes to Madeira food.  I must admit that when it was described to me as 'eel like' I didn't really fancy trying it, but I was proven wrong.  There are many variations on ways to cook this fish, so keep an eye out for it on local menus.  One peculiar option is to serve it with a fried banana … I dare you to try it!
BOLO DO CACO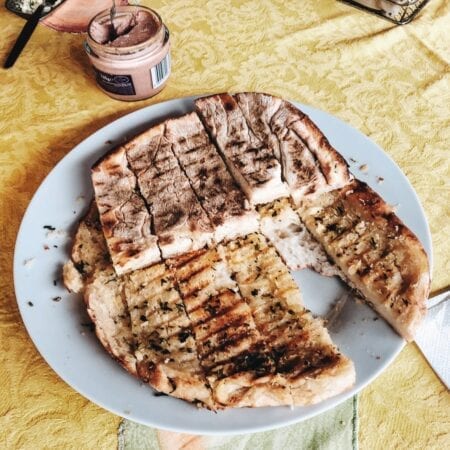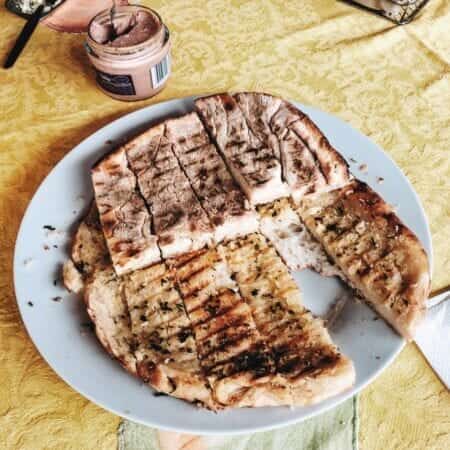 Portugal's version of garlic bread – it is a flat, circular bread, generally cut in half and served oozing with garlic butter. It can be made with sweet potato which makes it unique and is often eaten as a sandwich with seafood, steak or ham & cheese inside.  I highly recommend trying this Madeira food.
Lapas

A type of seafood which I would describe as a cross between oysters and muscles.  They are quite chewy and are generally served grilled with some butter, garlic and a squeeze of lemon.  A local delicacy that must be tried … and works even better with an ice cold beer.
Picado
This traditional Madeira food is the perfect dish for sharing with family and friends over a few drinks.  It consists of meat and perhaps a few vegetables in a delicious gravy which is then served on a bed of fries or potatoes.  It is generally prepared on an oblong plate and placed in the middle of the table, with everyone given toothpicks or small forks to help themselves.  How can something so simple be so delicious?
Lupins
These are a yellow legume and are normally eaten as a pickled snack food.  We were often served them as a snack (known as 'Petiscos') when we ordered drinks at a bar or restaurant.  Note, tourists are not always served Pesticos, so you might have to ask nicely!
MUST TRY MADEIRA DRINKS
Madeira Wine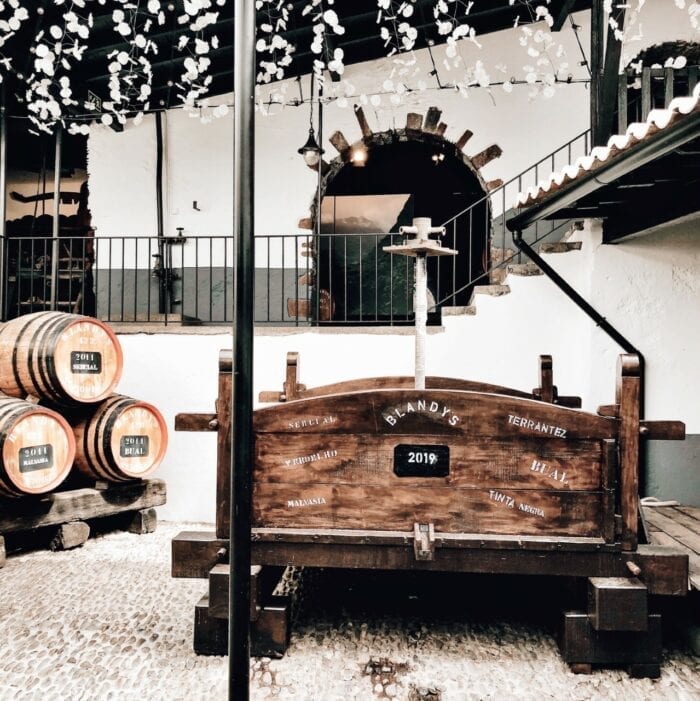 Madeira wine is not your typical table wine such as a Chardonnay or Shiraz.  But rather a fortified wine, just like Port that is made in Porto.  It is well worth a visit to Blandy's Wine Lodge in Funchal where you can sample some of the local wine available.
Poncha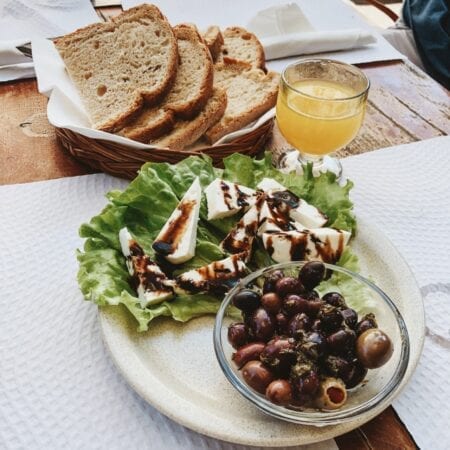 One of my favorite things about Madeira was Poncha! It is an alcoholic drink which locals claim cures the common cold (and I can personally vouch for this!)  It is made with honey, sugar, orange / lemon juice and a distilled alcohol which is made from sugar cane juice.  To make it properly you would mix it in a jug with a wooden muddler (known as a mexelote).  It reminded me somewhat of the Italian drink, limoncello.  But be warned – the drink is stronger than you think!
Coral Beer
Coral Lager is brewed locally on Madeira and is the main brand of beer found on the island.  In the hot Madeira climate it is the perfect thirst quencher, and that is coming from someone who is not normally a beer drinker.  However, I am sure that most of you don't need much convincing to try a local beer whilst on vacay.
MUST TRY MADEIRA DESSERTS
Pudim de Maracuja or Passion Fruit Pudding
Passion fruit is a popular fruit in Madeira and we were very spoiled with a home made passion fruit pudding (Pudim de Maracuja).  It is somewhat like custard but a little more dense and made with passion fruit.  It was absolutely delicious and my mouth is watering just looking at the photo!
Pastel de Nata or Portuguese Custard Tarts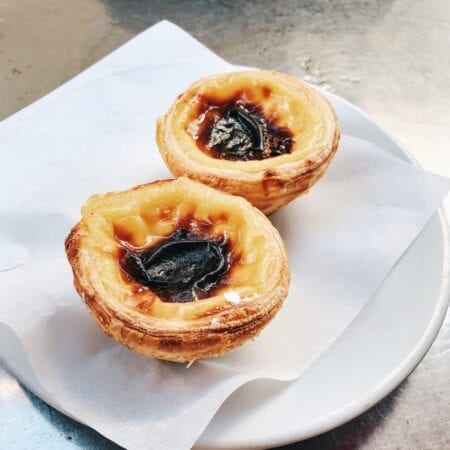 You may have had a Portuguese Custard Tart elsewhere around the world and I see them at lots of bakeries.  But wow, the real deal are something to write home about.  I'm looking forward to heading back to Portugal just to enjoy more of these delicious sweet treats.
WHERE TO EAT IN MADEIRA
We were very lucky to be treated to several home cooked meals whilst in Madeira, so we didn't eat out as much as perhaps we normally would.  However, we never experienced a bad meal whilst in Madeira.  Here are a few notable places to try if you are in the capital city, Funchal.
Sunset drinks at The Vine Hotel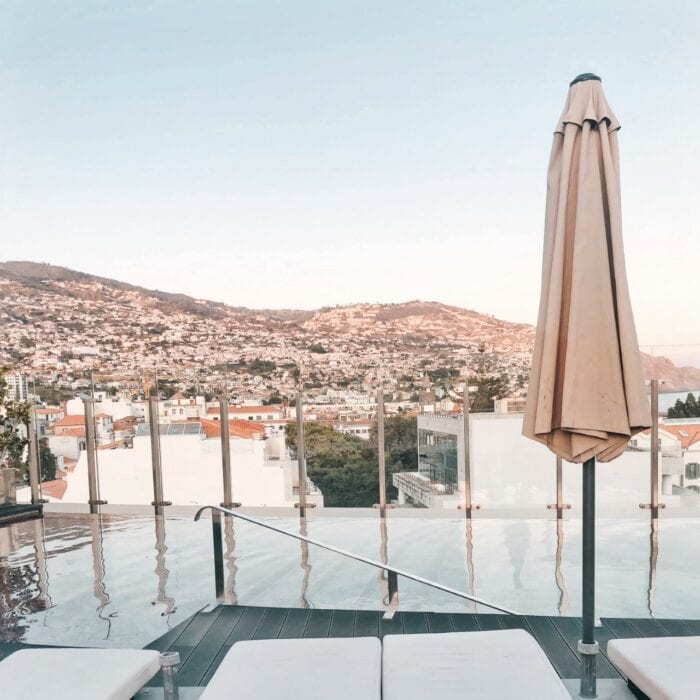 Three of my favorite things – rooftop bar, sunset and prosecco.  I highly recommend stopping by at The Vine Hotel for a drink during your stay as the bar affords beautiful views over Funchal.  It was child friendly enough at sunset, however my 2 year old was desperate to jump in the infinity pool.
Late night drinks at Bananas Pub
Portugal has a culture of dining late and staying out late into the evening.  No one battered an eyelid that we had our daughter out until almost midnight, and there were plenty of other young children with their parents.  Bananas Pub is an unassuming local bar which is fantastic for a drink and some Madeira food (such as picado).  We dined alfresco and enjoyed the English musician strumming his guitar and covering well known songs.
Wander through old town and choose a restaurant!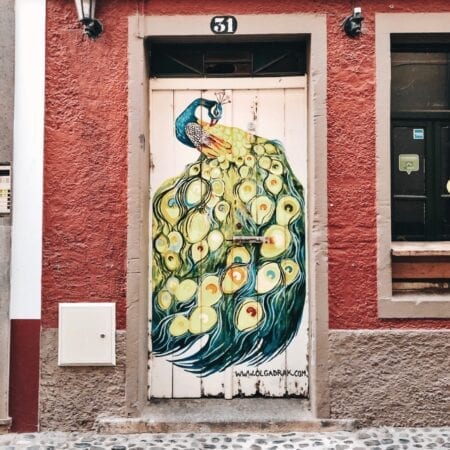 Rua de Santa Maria, also known as the "Painted doors Street" is the reason I love to travel.  Beautiful street art, old lane ways which you can get lost among and local cuisine like you wont find anywhere else in the world.  Enjoy the banter with the restaurants and choose a place with a table outside which appeals to you.  We were told that Restaurante Mozart is particularly good for Madeira food, but unfortunately it was at capacity when we tried to visit.  Next time!
Which Madeira food do you think you would like to try the most?  We are going to try making our own Bolo do Caco and I have been on the hunt for an authentic Pastel de Nata since returning home from our trip.  I hope I have inspired your wanderlust to explore Madeira (and made you hungry at the same time!)  Safe travels – Shell x
If you loved this post, Pin It!