Have you ever dreamt of having breakfast at Tiffanys? The iconic 60's movie has made generations of fans wish to reenact the experience themselves. Hey, there is even a song about it! So one midweek day in June 2021, I decided to take myself to The Tiffany Blue Box Cafe at Harrods and enjoy the real life glitz and glamour of breakfast at Tiffanys for myself.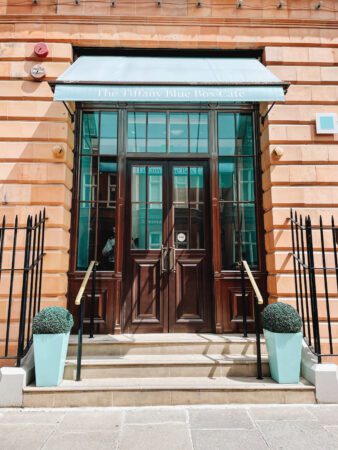 It is something I had wanted to do for years whenever we visited New York, but I had never been able to secure myself a booking at the Fifth Avenue venue. So after months of lockdown in the UK, it was time treat to myself to a little self indulgence.
Breakfast at Tiffany's, Harrods, London
Getting There
The Tiffany Blue Box Cafe is located within Harrods in Knightsbridge, London. I caught the train from York to London Kings Cross, followed by the tube (Piccadilly Line) to Knightsbridge. FYI – you can buy great value train tickets from Trainline. It was then just a short walk from the Tube station to the Cafe. 
I'm not going to lie – I somewhat struggled to find the entrance to the cafe and found myself walking all around Harrods trying to locate the elusive setting. So, if you are visiting yourself, stay outside of Harrods and find the external entrance opposite 22 Hans Road.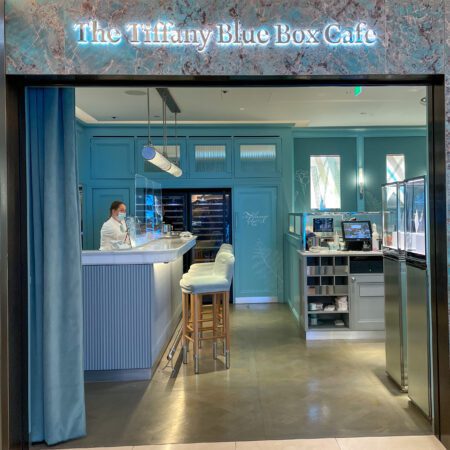 Booking Breakfast at Tiffanys
As with most things these days, I recommend that you make a booking for Breakfast at Tiffanys in advance to avoid any disappointment. At the time of my visit, the restaurant was not accepting walk up patrons but this has changed and guests will be accommodated on a first-come, first-serve basis. Having said that, the venue is very small so a booking will likely be your best option.
The restaurant is open from 9;30am – 7pm, 7 days per week. Breakfast is served daily from 09.30 to 12.30. There is also an option for afternoon tea later in the day as well as a specific children's menu.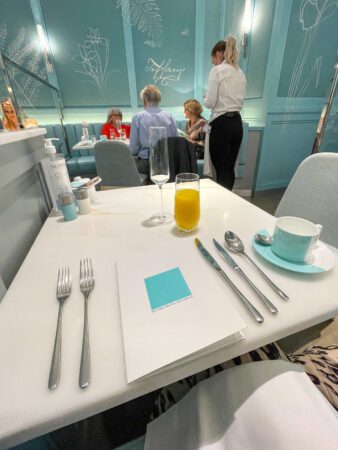 Arriving At The Tiffany Blue Box Cafe
Upon arrival, I walked down the long corridor with its bright lights and sparkling artefacts to the main bar where I was greeted by the friendly waitstaff. The cafe was smaller than I anticipated but I was impressed by its opulence nonetheless.
There are two different meal options when visiting The Tiffany Blue Box Cafe. You can choose from either breakfast / brunch or afternoon tea. It was a particularly tough decision as I do love a grand afternoon tea, but I decided to opt for a late breakfast. Because after all, the tradition of breakfast at Tiffanys is what it is all about.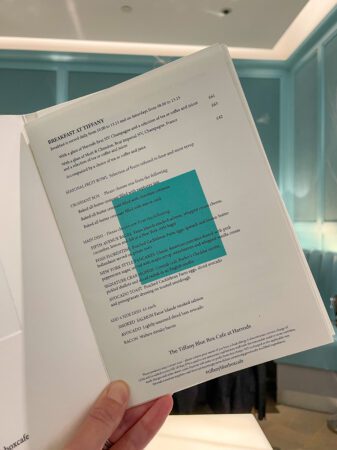 Breakfast at Tiffanys London – The Menu
Once seated, I was handed my menu and decided to go all out – treating myself to Breakfast at Tiffany with a glass of Moet & Chandon Rose Champagne, plus a selection of tea and coffee and juices. My delectable dining experience included:
Seasonal Fruit Bowl – a selection of fruits infused in lime and mint syrup;
Croissant Box – a signature baked all butter croissant in the shape of a box (representing the iconic blue Tiffany box), filled with a chocolate cremeux; and
Avocado Toast Poached Cacklebean Farm eggs, sliced avocado and pomegranate dressing on toasted sourdough.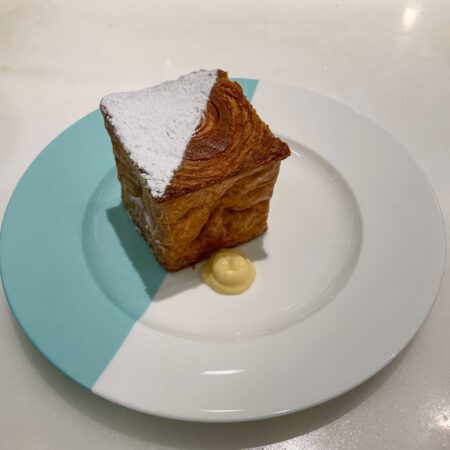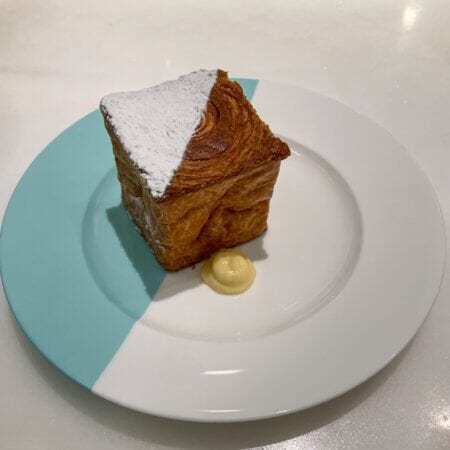 The pictures tell a thousand words when it comes to this meal. Not only was everything served like a piece of fine artwork, but it tasted just as good as it looked. Over the course of almost 2 hours, I slowly enjoyed my mouth watering food and drinks, whilst soaking up every moment of the lavish setting and memorable occasion.
The Setting & Ambiance of Breakfast at Tiffany's Harrods
The cafe was the exact level of understated glamour that one would expect from the Tiffany & Co brand. The walls are painted the iconic Tiffany Blue and the furniture and decor were muted tones of white and grey.  The crockery was a contrast of white and blue, with stunning glassware and silver cutlery to compliment it.
The staff were polite, poised and attentive. No request was too big or too small. And there was a general sense of happiness and delight in the air. There were couples celebrating special occasions and groups of girlfriends catching up after long periods of time apart. And whilst I dined alone, never did I feel awkward or out of place.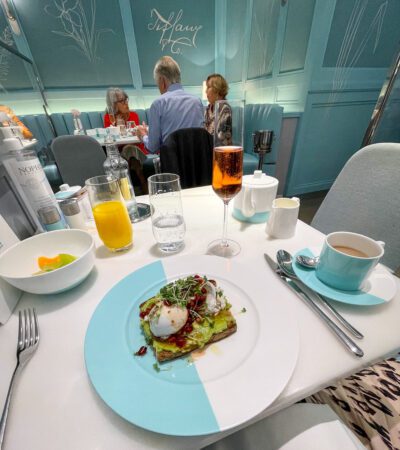 How Much is Breakfast at Tiffany's London
The total cost for Breakfast at Tiffanys London was GBP 63 + 12% service charge for 1 person. Personally, the experience was worth every penny and is something that I will remember for a very long time to come. Sometimes in life, you just have to treat yourself!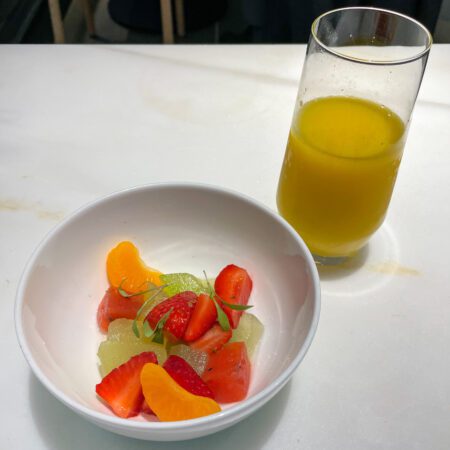 My Final Thoughts On Breakfast At Tiffanys London
There is no denying that this was an extravagant little gift to myself. But I absolutely adored the luxury experience and would highly recommend it to anyone whom is a fan of the movie, the song or the brand. Or perhaps you just want to pretend to walk in the footsteps of Audrey Hepburn for a short while.
It is such a unique thing to enjoy and is made all the better with the wonderful food and fantastic service. If you find yourself in London and are looking for something a little extra special to do, I cannot recommend highly enough making a reservation for breakfast (or afternoon tea!) at The Tiffany Blue Box Cafe.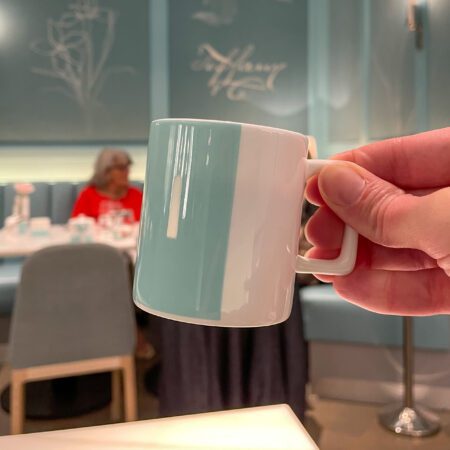 Tell me – have you dined at The Tiffany Blue Box Cafe previously, or is it something that is on your bucket list? Either way, I hope you enjoy(ed) the special experience as much as I did. Shell x
If you loved this post, Pin It!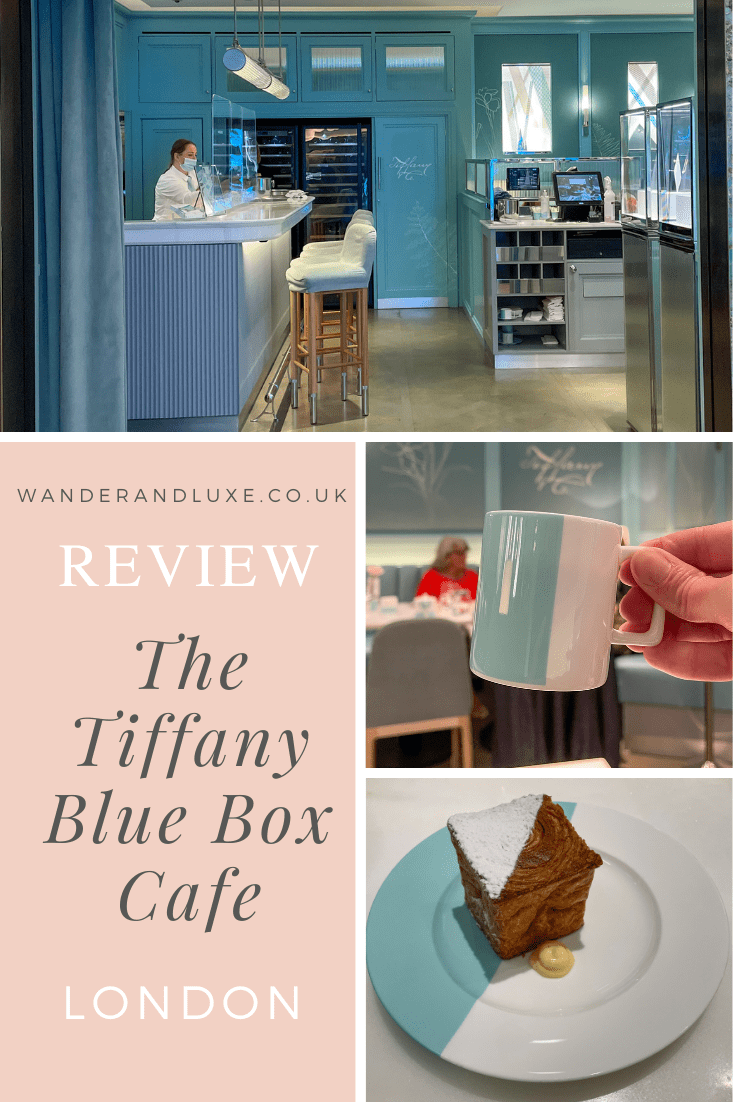 Did You Know: When you click through and buy something or make a booking as recommended in this Breakfast at Tiffanys blog post (via an Affiliate Link), it helps to keep Wander & Luxe running, at no additional cost to you! Thank you so much for continuing to supporting us x