Whilst we might be spending Valentine's Day in lockdown, its still important to  keep the romance alive. And it certainly doesn't stop us from celebrating with our beloved on February 14th.  Besides, its nice to have something to look forward to – am I right?
With that in mind, I spoke with some fellow UK bloggers to see how they intend to spend Valentine's Day in lockdown.  They gave me a wonderful and eclectic list of ideas to celebrate Valentine's Day in 2021.  I'm sure you can find something to suit you in this list of romantic ideas, so go on and take a look!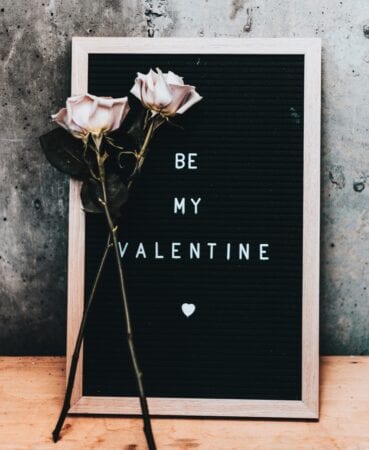 14 Romantic Ways to Celebrate Valentine's Day in Lockdown
#1: Spa Day at Home
We usually go for spa days or treatments around Valentine's Day, so this year we are going to create a spa day at home.  We've bought a massage table and will give each other relaxing aromatherapy massages for our Valentine's Day in lockdown. It gives our traditional plans a lockdown / Covid spin, plus it's something we can enjoy for years to come.
#2: Mystery Puzzle Evening
We recently tried an at home mystery puzzle evening from Puzzle Post. The puzzle is a series of challenges and original problems to solve, with a bespoke secret message revealed at the end.  It was fun, intriguing and hard to solve the puzzles. I cant recommend it enough as a date night for Valentine's Day in lockdown.
#3: Celebrate With Your Furry Friends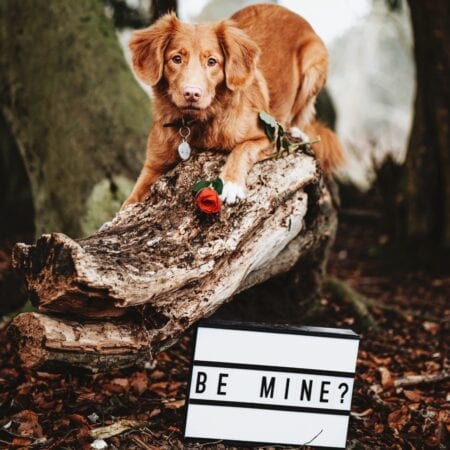 Valentine's Day is called "Día del Amor y la Amistad" in Spanish – a day of love and friendship.  And it has become the perfect opportunity for me to show my best friends how much I love them. My best friends just so happens to be my dogs.
On Valentine's Day, I plan a special event for my dogs, such as a trip to a dog park or a big open field. Then, I prepare their enrichment toys with something delicious and freeze it, so that we can all enjoy some good food while we relax after a day out!
It's the perfect Valentine's Day in lockdown whether you are single or in a couple.
Contributed by Janni Nilsson from IggySays
#4: Cook An International Inspired Meal
This year, in an effort to live a more intentional life I'm planning a romantic and travel inspired meal for 4. We are missing dining out but enjoying the challenge of recreating our favourite meals. Lockdown really has brought us together in the kitchen as a family. So, I'm going to do the starter, hubby can do the main and the kids will be in charge of the dessert. We might even watch a cringy cheesy romcom together to round out the evening, PG rated of course!
Contributed by Carly Crawford from A More Intentional Life
#5: Breakfast In Bed
Make Valentines Day in lockdown special with breakfast in bed.  You could try fresh pancakes cut into heart shapes with fresh strawberries and cream.  Or if you want to prepare something the night before, try a Coconut & Almond Chia Pudding and dress it with fresh fruit and granola in the morning.
Contributed by Yaya Duran from Step Into Parenting
#6: Paint and Sip Date Night
For a fun and romantic Valentine's Day in lockdown, put together a couples paint and sip date night. You'll both be able to use your creativity to make a special painting you can hang inside your house and remember the day. Grab your favorite drink, some snacks, plus a couple of canvases and paint.  Then follow along to a step by step painting tutorial for couples!  And if you are not so confident in your ability to organize it yourself, why not consider a virtual class?
Contributed by Sara Stanisz of Our Kind of Crazy 
#7: Have Fun With The Kids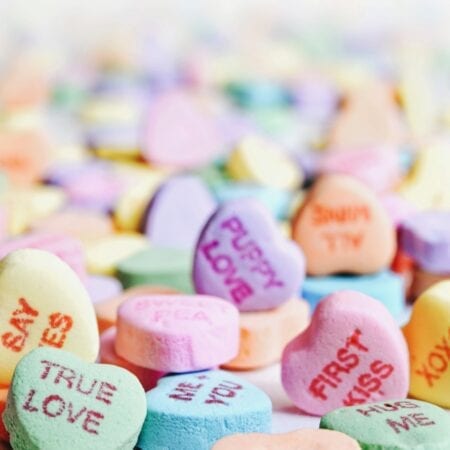 This year I will be celebrating Valentine's Day in lockdown with my 3 gorgeous boys. We will be making a Valentines card for each other telling the other person what we love most about them.  Followed by a snuggly movie and making heart shaped pizzas for dinner. Whilst it might not be the usual Valentine's Day one would expect, I'm looking forward to sharing the love with my 3 little guys.
Contributed by Rebecca Timmins of Northamptonshire Mums and Kids
#8: Make Quarantini Cocktails
For Valentine's Day we're going to have a fun evening in the house making cocktails! It's something that my husband has really got into over the past year, and we both love the Quarantini Challenge: making each other cocktails with whatever we find in the cupboard.
Sometimes the results are delicious, sometimes not quite so much… But the point is that it's always a giggle (and, to be fair, it can also be a good way to use up some of the weirder ingredients that find their way into the drinks cabinet). Despite the circumstances, we are looking forward to a lovely Valentine's Day in lockdown.
Contributed by Mairead Claydon of The Sickly Mama
#9: Pizza Night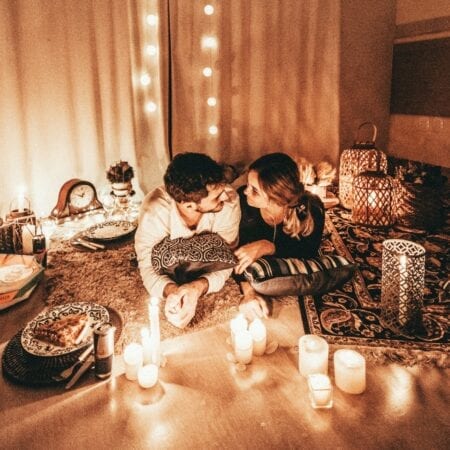 I would like to say that this lockdown Valentines is going to be different for us, but to be honest we love just staying at home for Valentine's day. This year we shall team together and make Gareth's famous pizzas.  I don't know how he feels about me helping as I am terrible in the kitchen, but it's just about being together.
We will get those candles lit, share a bottle of wine, listen to some nice music and reminisce on old times. Personally, Valentine's Day for me is just about being with the person you love.
Contributed by Victoria Newton of Doorways & Dresses
#10: Recreate an Overseas Holiday
Last year my partner recreated our first ever holiday without the kids. He decorated the table in a Greek theme and cooked the same food that we ate on our first meal at the resort. We wore the same clothes and it was absolutely amazing. You could recreate the day you proposed to your other half, or even when you first met. It's such a special thing to do together and the perfect option for Valentine's Day in lockdown.
Contributed by Claire Roach of Money Saving Central
#11: Make a Special Homemade Gift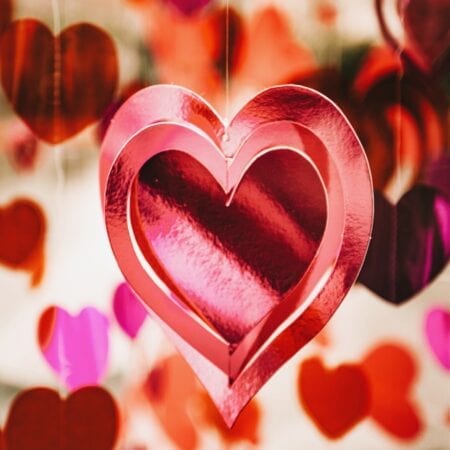 I love home made gifts, especially when a bit of thought and personalisation goes into them.
Why not make a jar filled with folded up notes of why you love your partner. Lovingly write words on coloured paper about their personality traits that you love, what you love about their appearance, special things they do just for you or something a bit more steamy. You could even mix it up a bit and have half that are filled with the words above, and half that are treats for them to claim back when they want.
Make them as romantic, funny or as raunchy as you like. Decorate the jar with fabric and ribbons – an added bonus is that it's eco friendly too.
Contributed by Jo Jackson of Tea and Cake for the Soul
#12: Order Your Favourite Takeaway
Despite not being able to go out, I think it's important to make an effort. We will be getting dressed up with dresses and suits, pretty makeup and jewellery, for a special night in with one of our favourite takeaways. I love celebrating love, so with a three course meal it's sure to be a special Valentine's Day in lockdown.
Contributed by Hannah Elizabeth
#13: Give Personalised Gifts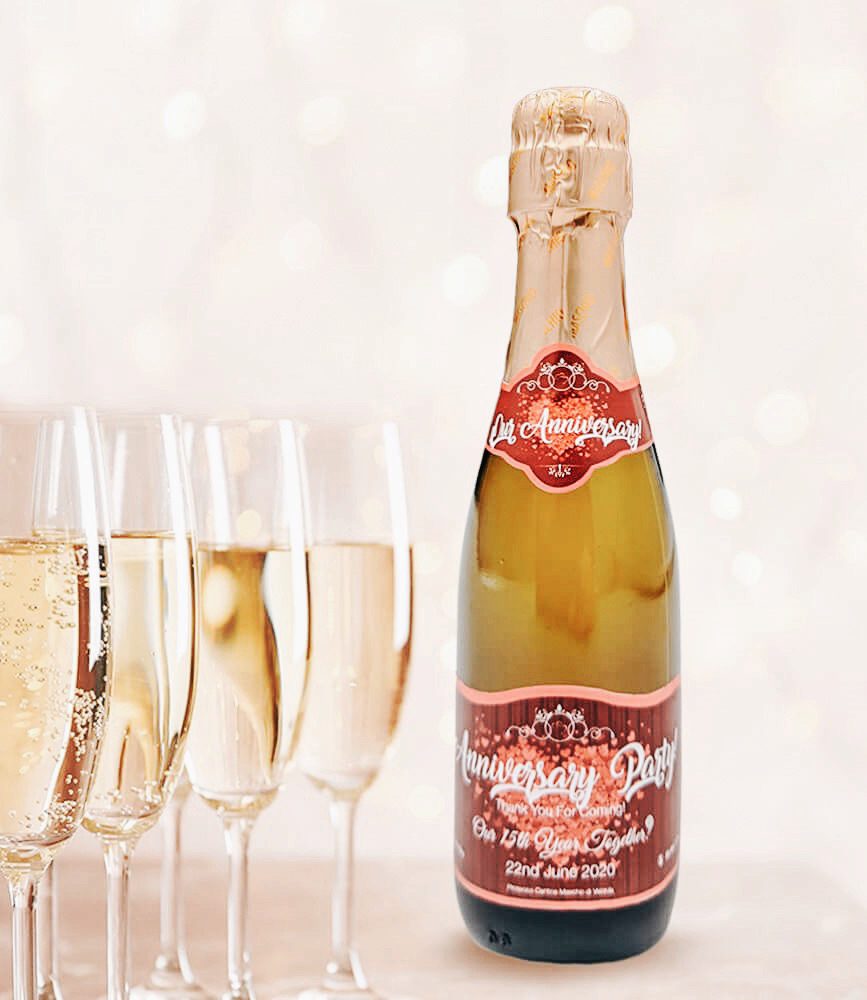 If you are looking for a thoughtful present for your loved one, why not order a personalised gift to give on Valentine's Day.  There are so many brilliant options available, from personalised prosecco to bespoke chocolates, and everything in-between.  Alternatively, nothing says I love you like red roses on Valentine's Day.
#14: Order a Cook at Home Box
One benefit of multiple lockdowns in the UK is that it has caused businesses to think outside of the box and determine how they can still deliver their products and services to their customers.  As such, we have seen lots of restaurants offer 'cook at home' boxes on a weekly basis and many are offering Valentine's Day Boxes.  There is everything from gourmet burgers to Michelin star restaurants serving up quality fare.  So why not order a special meal box and cook at home this Valentine's Day in lockdown.
And if you fancy getting dressed up for the occasion, click here for some inspiration.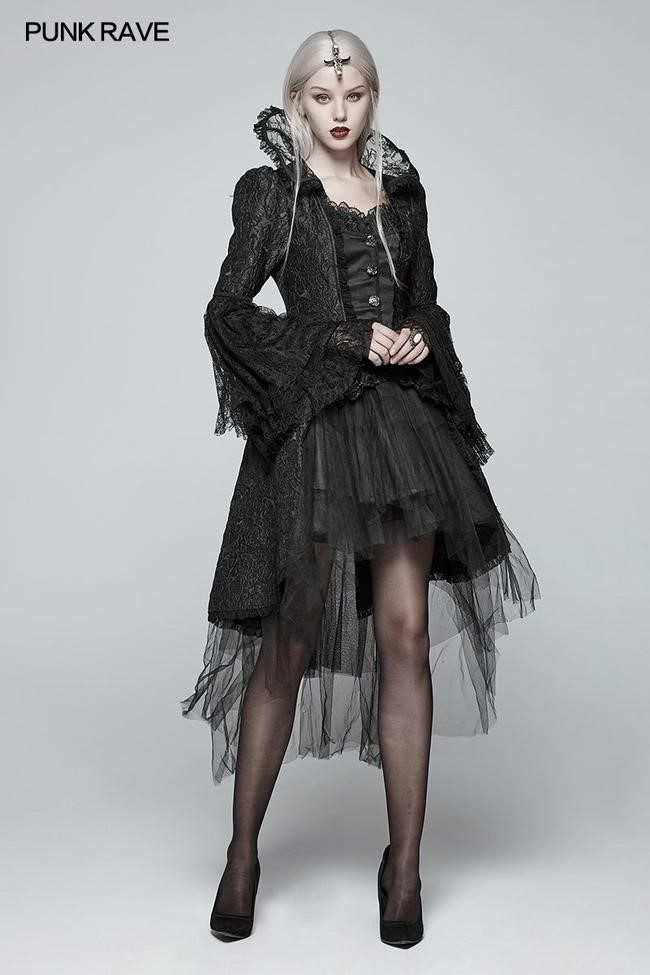 I hope you have found something to suit in these brilliant ideas for celebrating Valentine's Day in lockdown.  At the end of the day, as long as you have your loved ones close by then that is all that really matters.  Happy V. Day – Shell x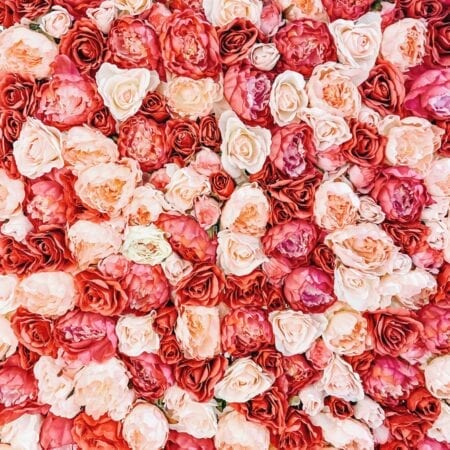 Did You Know: When you click through and buy something recommended in our blog posts via an Affiliate Link, it helps to keep Wander & Luxe running, at no additional cost to you! Thank you for supporting us x